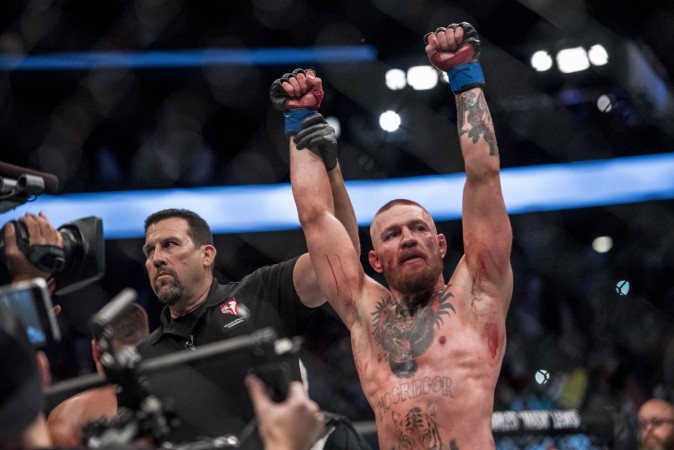 Ultimate Fighting Championship (UFC) star Conor McGregor will be seen using his martial arts skills in the 'Call of Duty: Infinite Warfare' video game, scheduled for a November release. McGregor, 28, has been one of the top draws in the history of Mixed Martial Arts (MMA) after seeing an absolute meteoric rise in the UFC, where he made his debut in 2013.
The Irishman did appear in small-scale UFC events around that time, but he started steadily becoming a top draw since early 2015, following his emphatic win over Dennis Siver in a UFC Fight Night event in January.
McGregor, the current UFC Featherweight champion, recently moved as many as two weight divisions up to take on Nate Diaz in 2016. While he lost the first fight at UFC 196 in March, the Irishman came out stronger and the more dominant one in their rematch at UFC 202 held in August.
One of the most decorated combat athletes at the moment, McGregor boasts of a bank account worth millions of dollars and a rich collection of vintage cars. His stardom is also at the highest level. Extending his brand image further, McGregor decided to make an appearance in the 13th instalment of the 'Call of Duty' video game series, slated to release on Nov. 4 over the Microsoft Windows, PlayStation 4 and Xbox One platforms.
Kit Harington, who plays Jon Snow in the popular TV series 'Games of Thrones' will also be seen alongside McGregor in the game. The English actor will portray the character of Admiral Salen Kotch, the chief bad guy of the Settlement Defense Front, in the game, while McGregor will play the character of Captain Bradley Fillion, yet another villain.
Conor McGregor behind the scenes moment from Call of Duty: "Infinite Warfare"
Call of Duty: Infinite Warfare official trailer