Rocky Balboa, the boxing character immortalised by Sylvester Stallone, had made a speech to his son back in the movie titled 'Rocky Balboa', released in 2006. The speech influenced society thereon and still remains the perfect source of motivation and inspiration for every heart, lost and out.
The main crux of the speech remained that it was not about how hard one can hit, it is about how hard one can get hit by life and keep moving forward.
Let me tell you something you already know. The world ain't all sunshine and rainbows. It's a very mean and nasty place and I don't care how tough you are it will beat you to your knees and keep you there permanently if you let it. You, me, or nobody is gonna hit as hard as life. But it ain't about how hard ya hit. It's about how hard you can get hit and keep moving forward. How much you can take and keep moving forward. That's how winning is done! Now if you know what you're worth then go out and get what you're worth. But ya gotta be willing to take the hits, and not pointing fingers saying you ain't where you wanna be because of him, or her, or anybody! Cowards do that and that ain't you! You're better than that!
On Tuesday August 22, Jon 'Bones' Jones, who regained his UFC light heavyweight championship after defeating Daniel Cormier at UFC 214 in July, has been found guilty of taking steroids again. This time, more certain than ever, his decorated career is finished.
Mixed martial arts fans, UFC President Dana White, fellow fighters, Daniel Cormier and even plain philosophers are at a loss of words. How down can life indeed push you! Jones tested positive for Turinabol, a performance-enhancing steroid right ahead of his UFC 214 fight.
The latest development is that Jones' camp are hell bent on re-testing the blood samples of the fighter to see if it came from any tainted substance. Even UFC commentator Joe Rogan has asked for the same before making further comments and conclusion on Jones' character.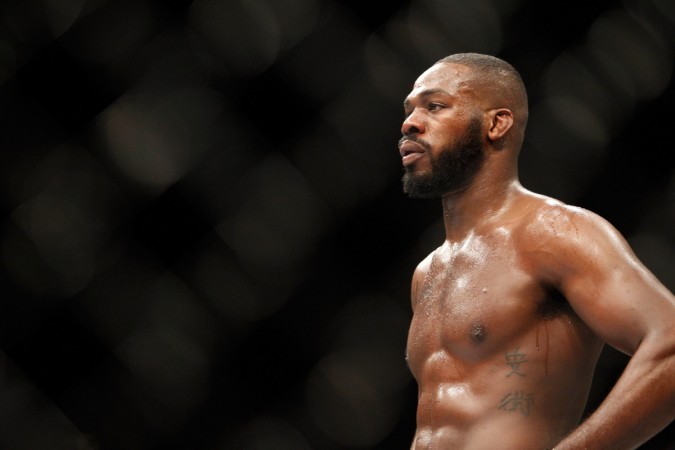 "I always hope whenever a fighter tests positive that it's a mistake or that it's a trace amount from a tainted supplement, and that's exactly how I'm feeling now," wrote Rogan.
We can't but help mention that the ongoing developments can only take Jones, 30, to a zone where he can never return from. Probably worse than depression. A future mouthwatering encounter against Brock Lesnar or even Dana White contemplating a heavyweight match between Stipe Miocic and Jones, has gone up in the air.
After his TKO win over Cormier at UFC 214, Jones showed enough maturity and everyone could feel the determination of the man in the new path he is taking to become the man he always wanted to be.
"In a way it feels like my first championship ever because I feel like it's a new beginning," mentioned Jones after the UFC 214 win.
"I went through such a dark period with depression and everything else and now there's a light at the end of the tunnel. I feel like I'm leaving my past behind me and I'm erasing everything I've ever done. It's the start of a new career and a new championship reign. I want to be a better champion than I was in the past and be the champion the fans deserve.
"I feel like the best is yet to come for me," Jones added. "I feel I'm in my mental and physical prime and the best is ahead of me. That should be real scary for the rest of the division."
For now, headlining UFC 217 at the Madison Square Garden in New York, is over for Jones. Although the title hasn't been officially stripped off from his as yet, it is just a few hours' time until Cormier receives the light heavyweight championship yet again.
Jon Jones was destined for greatness not only in the UFC but also in the world of combat sports. One of those modern fighters with an all-round unorthodox game, Jones decimated the likes of Rampage Jackson and Lyoto Machida in his way to greatness, before alcohol cost him his career.
And then, drugs took over.
His career in numbers:
23 - Jon Jones still holds the record of being the youngest champion in the history of UFC. He won the the UFC Light Heavyweight Championship at the age of 23 in March 2011, after defeating Mauricio Shogun Rua at UFC 128.
8 - Jon Jones became the most destructive force to reckon with in the UFC after stunning eight title defenses. The likes of Rampage Jackson, Lyoto Machida, Chael Sonnen, Daniel Cormier and more were left destroyed.
Violation #1 - The title defenses took place until January 3, 2015. Jones was set to take on Anthony Rumble Johnson in May that year. Jones was stripped and suspended indefinitely by the UFC in April, after he crashed his SUV into a pregnant woman's car and fled the scene in New Mexico.

He subsequently got out on a $2,500 bail days after his arrest.

Violation #2 - Jones was found guilty of violating his probation period and was sent to a detention centre in New Mexico Tuesday for allegedly drag racing near a traffic stop in 2016.

In an incident that took place March 24, Jones mouthed foul words to a police officer in the streets after being caught guilty of drag racing and that was a violation of his 18-month supervised probation sentence. The MMA (Mixed Martial Arts) fighter was made to sign a plea agreement after being discharged from a jail in New Mexico last year.

The agreement had stated that Jones should try to avoid getting into legal trouble for the next three years or else he will be convicted of felony again. Fortunately, that didn't escalate much.

Cormier vs Jones 2 - The title rematch was set for UFC 197, but Cormier retired hurt, thus leading Jones to fight for the UFC interim light heavyweight championship against Ovince Saint Preux at UFC 197 on April 23 2016. As expected, Jones won the match.
Violation #3 - Cormier returned from his injury and that rematch was set for the landmark UFC 200 pay-per-view event on July 9 2016. However...

Jones was immediately suspended after UFC officials learnt from the US Anti-Doping Agency (USADA) that the former UFC light heavyweight champion had violated a potential Anti-Doping Policy. He tested positive in an out-of-competition sample collection done by the United States Anti-Doping Agency on June 16. Jones facing a two-year suspension.

Jones was immediately suspended by the USADA as well as the Nevada State Athletic Commission for a period of one year. The interim title was also snatched from him.

UFC 214 - After completion of his one-year ban, Jones returned as a matured man, knocked out Cormier in the main event, won the title back, showed oodles of respect to his opponent and won back his fans.
Violation #4 - Jones is found guilty of steroid use yet again. Getting stripped off the title is just a moment's time now...
It's been a series of getting back down and getting back up for Jones. Whoever thought life could be so hard. If the legendary stoic Marcus Aurelius was alive, he would have surely included a chapter on Jones in his book 'Meditations'.
Even Rocky Balboa would be appalled by the series of incidents in Jones' life for sure, lately. Whoever said life would get bright again if you started from zero to become the hero again.