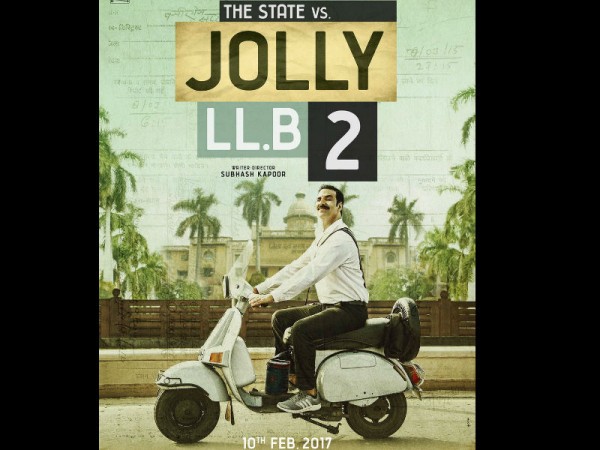 RATING: 3/5
Movie: Jolly LLB 2
Cast: Akshay Kumar, Huma Qureshi, Annu Kapoor, Saurabh Shukla, Inaamulhaq
Director: Subhash Kapoor
Genre: Bollywood Comedy drama
Akshay Kumar's latest release Jolly LLB 2 is a comedy-drama which takes a satirical take on India's legal system. The movie is filled with several entertaining moments but certain sequences will appear over the top.
Photos: Jolly LLB 2 special screening | Movie stills | Akshay Kumar on Kapil Sharma Show
PLOT
Akshay plays the character of Jagdishwer Mishra aka Jolly, a lawyer but primarily functions not more than as a secretary of a reputed advocate. He aspires to make a big name in the same profession but nobody takes him seriously. Desperate to have his own chamber, Jolly deceitfully grabs a hefty sum from a pregnant woman (Hina), who is seeking justice for her husband's fake police encounter.
However, his deception soon gets revealed and Hina, having lost all hopes to get justice, kills herself. This shakes Jolly deeply and in order to get rid of the guilt, he prepares to fight against the system and get the murderer of Hina's husband punished.
Nevertheless, Jolly comes across series of hardships as his fight is against a powerful police officer and an experienced opposition lawyer. Whether Jolly be able to get justice for Hina or he falls prey to the cruel system, makes the crux of the story.
Jolly LLB 2 review roundup: Here's what critics have to say about Akshay Kumar's film
PERFORMANCES
Akshay has proved his acting prowess in almost all genres, including comedy, and his role in Jolly LLB 2 seemed to be tailor-made for him. He pulled off the character of a Kanpur-based man, practising law in Lucknow with precision.
Huma's character of Pushpa Pandey is much unconventional and interesting as she appears to be the only housewife in the locality who gets drinks and food served by her husband. Annu Kapoor as Sachin Mathur does full justice to the role of a lawyer known to be a gold-digger. Saurabh Shukla is seen as a jovial judge who adds much humour and entertainment in the film.
POSITIVES
Jolly LLB 2 has some good performances along with several funny moments. The film takes a sharp dig at the faulty legal system of the country, as well as the police. There are a number of sequences in the movie that may not make you laugh out loud but will definitely tickle your funny bones with a touch of satire. The film also has a powerful message in the climax.
NEGATIVES
In spite of being a good entertainer, Jolly LLB 2 has certain sequences that appear to be over the top and defies logic. For instance, there is a sequence where the opponent's lawyer disagrees with the judge's decision and sits on dharna inside the court as a mark of protest. If that is not enough, the judge also sits on the floor protesting the lawyer's dharna and the court's proceedings remain halted for many hours.
The angry opposition lawyer addresses the judge as dictator but instead of calling it a contempt of court, the latter requests the lawyer not to call him by that name as he feels he deserves some respect. In another sequence, Jolly slaps the opponent's lawyer inside the court, following which the latter's supporters enter the court with guns in hand, and the helpless judge seeks protection under the table.
However, the director can more or less be spared from showing such unrealistic court happenings on the ground that it is a satirical comedy drama. Also, certain scenes in the movie show Akshay delivering too many emotional statements that otherwise might not be entertained by the court.
VERDICT
Jolly LLB 2 is good in terms of entertainment and humour but this is definitely not the best that Akshay can offer. It can be a one-time watch as there are no other better releases this Friday.