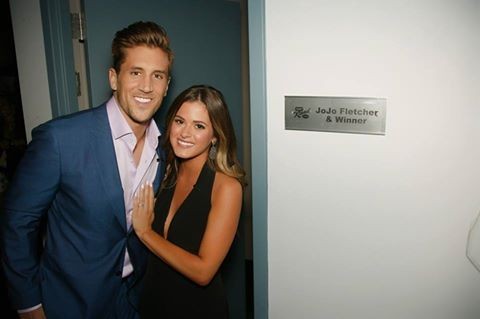 The Bachelorette couple JoJo Fletcher and Jordan Rodgers has been fighting off breakup rumours by loading up on public display of affection in the virtual world. Their snapchat and Instagram pages are filled with lovey-dovey pictures of them, and recently, Fletcher uploaded online a picture of a bouquet that many thought was from Rodgers.
But according to an insider, Fletcher bought the floral arrangement and made it seem as if it was a thoughtful gift from her fiancée.
"She hasn't been getting the attention she wants from Jordan, so she's been sending herself floral arrangements to show their fans that he's super-romantic and still in love with her," a source told Life & Style. The insider claims that their relationship has been rocky as Rodgers has been on the road constantly for his new gig as a college football analyst. "Everyone around them knows their relationship is phony," the source added.
Recently, Fletcher and Rodgers opened up about their romance and noted that they are yet to set a date for their wedding. The biggest trouble they are facing is to figure out where to get hitched.
"We've been talking about it," the former Bachelorette told ET. "We don't even know the first steps of what to do. Like, where are we going to do it? It's where and when. We don't know," Fletcher said.
But one thing they are sure of is that they wouldn't mind sharing their big day with their fans. "I think it's definitely a question," Fletcher revealed, adding that right now they are focusing on being with each other and enjoying their time together.
"You know, it's funny, we got to be together on the show, but we haven't really dated. So this has been such a fun time to move into our first home together, and to go on dates," she said.