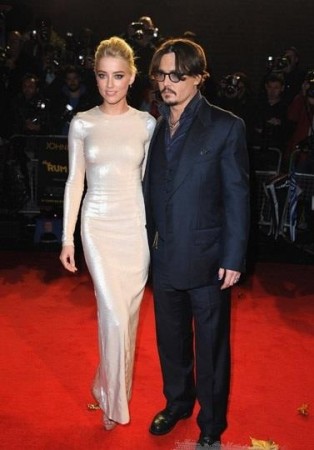 Johnny Depp, our favourite pirate may have never, in his darnest dreams, imaged that his 'relation'-ship would sink this soon. Looks like there's trouble in paradise and the newlyweds are headed for a splitsville.
A few weeks ago, rumours about Johnny Depp and Amber Heard's divorce went viral online, but the couple brushed them all off by making their first public appearance together on 21 April. In fact, they were also spotted holding hands in Brisbane. The 51-year-old actor went back to Australia to continue shooting for his new movie "Pirates of the Caribbean: Dead Men Tell No Tales" accompanied by his 29-year-old wife.
The couple, who wed in February, looked all happy and content when they made these appearances, but insiders say that it was all for the cameras. "They hadn't been seen together in two months, and when people started noticing, Johnny realised they needed to present a united front, fast," a source told OK! Magazine about the couple's reunion in Brisbane.
Sources also pointed out that Johnny and Amber fight about the smallest things, even when they're on the sets, in front of hundreds of people. So it's possible that their marriage is set to bite the dust. And apparently, Amber's secret girlfriend, iO Tillet Wright is to be blamed.
According to Celeb Dirty Laundry, Amber is allegedly cheating on the "Pirates of The Caribbean" actor with her secret girlfriend iO Tillet Wright, who is a well-known artist, writer, and photographer based in New York.
The actress, in the past, has quite openly admitted to being bisexual. So it wouldn't be wrong to assume that she is cheating on him with another woman. In fact, the latest edition of Star magazine reveals that Heard has been spending more time with Wright instead of hubby Johnny.
"Instead of joining Johnny in LA – Amber is rubbing her relationship with iO in Johnny's face and he can't handle it. It's like she doesn't have a care in the world. They are barely speaking at all, their relationship is a mess," the source said.
Well, we are guessing Johnny Depp and Amber Heard aren't as happy as they'd like us to think.