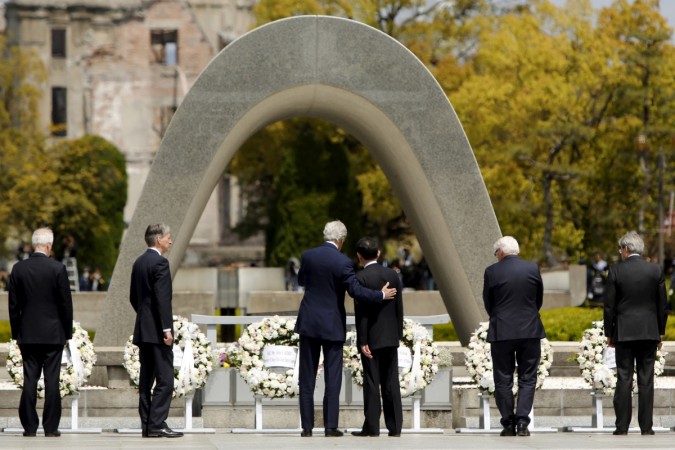 U.S. Secretary of State John Kerry became the senior-most executive official from America to visit the memorial site of the Hiroshima atomic bombing Monday. However, he did not offer an apology for the World War II bombing by the United States that killed 140,000 people.
Kerry visited the Hiroshima Peace Memorial Park and Museum along with other G-7 officials, and his visit is likely to be "closely analysed by Tokyo," the Japan Times reported.
"Honored to be 1st Sec State to visit Hiroshima Peace Memorial Museum & Park. [sic]" Kerry tweeted, while also sharing the note he wrote in the guest-book at the memorial.
"Everyone in the world should see and feel the power of this memorial," Kerry said in his note. "It is a stark, harsh, compelling reminder not only of our obligation to end the threat of nuclear weapons, but to rededicate all our effort to avoid war itself. War must be the last resort — never the first choice."
"This memorial compels us all to redouble our efforts to change the world, to find peace and build the future so yearned for by citizens everywhere," he added.
Reports Sunday had suggested Kerry would refrain from an official apology for the U.S. atomic bombing while visiting the museum that features shocking images of the destruction wreaked by the bombs dropped on Hiroshima Aug. 6, 1945, and three days later at Nagasaki.
"If you're asking whether the secretary of state came to Hiroshima to apologise, the answer is no," a State Department official had said Sunday, according to the Washington Post. "If you're asking whether the secretary and I think all Americans and all Japanese are filled with sorrow at the tragedies that befell so many of our countrymen, the answer is yes."
U.S. President Barack Obama may visit Hiroshima when he arrives in Japan for the Group of Seven summit next month. While there is no official decision on his visit yet, the Washington Post said White House officials would "carefully look" at the Japanese reception to Kerry's Hiroshima visit to make the final call on the U.S. President's visit.