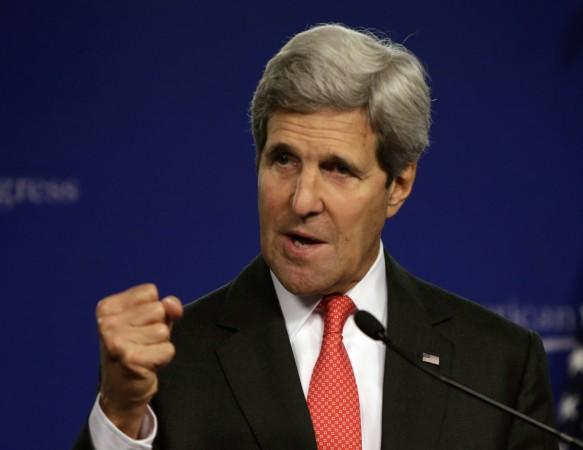 United States Secretary of State John Kerry will be in India this week to meet Prime Minister Narendra Modi with the priority of strengthening diplomatic ties that have waned over the last few years.
In a speech on Monday, Kerry said that India-US relations were at a "potentially transformative moment", adding that the largest and oldest democracies were "indispensable partners for the 21st century with the dynamism and entrepreneurial spirit to address the world's greatest challenges".
"This is a potentially transformative moment in our partnership with India, and we're determined to deliver on the strategic and historic opportunities that we can create together," he explained.
Kerry, along with Commerce Secretary Penny Pritzker, will be the most senior US official to meet Modi, ever since he assumed the Prime Ministerial office. The diplomatic dialogue will set the stage for Modi's visit to Washington in September, when he will meet US President Barack Obama.
Kerry backed the Modi government's motto of "sabka saath sabka vikas", calling it a vision that the US government wants to support.
Before his visit, Kerry has already made clear a few topics of interest and pressed for a stronger business environment in India for American businesses.
"If India's government delivers on its plans to support greater space for private initiative, if it creates greater openness to capital flows, it if limits subsidies and strive for competition, and provides strong intellectual property rights, even more American companies will come to India," Hindustan Times quoted him.
The discussion is reported to cover the full range of bilateral issues, including expanding bilateral trade, tackling climate change, improving India's energy security through cooperation in clean energy and energy access, and expanding the already robust people-to-people ties, PTI reported.
There could also be discussions on removing various trade barriers, and reducing limits on US technology and products in areas such as energy and agriculture.
Kerry's visit is being seen as long due given the lull in the relations between the two countries.
"Since 2010, the high-water mark of President Obama's trip, the relationship has been on hold," said Frank Wisner, a former U.S. ambassador to India.