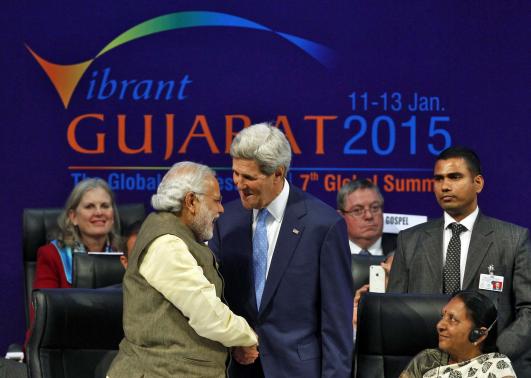 The United States Secretary of State, John Kerry, escaped unhurt after two cars in his motorcade met with a minor accident on Monday when he was on his way to Sardar Vallabhbhai Patel International Airport in Ahmedabad.
"During the drive to the airport in Ahmedabad, India, two cars in the motorcade had a minor traffic accident resulting in some damage to both cars," Reuters quoted an excerpt from a statement released by State Department spokeswoman Jen Psaki.
The incident took place when Kerry was heading to the airport after concluding his two-day visit in Gujarat. Psaki told reporters aboard Kerry's plane that one of the two vehicles that met with an accident was behind Kerry's car and was switched out later as it reportedly suffered minor damage.
"Secretary Kerry was in the first of the two vehicles. He sustained no injuries nor did any staff or personnel. One vehicle was switched out and the motorcade proceeded to the airport without further incident," the statement read.
Kerry arrived in India on Sunday to attend the 7th Vibrant Gujarat Summit at Mahatma Mandir in Ahmedabad. During his visit, he also hinted at the agenda of issues that Indian Prime Minister Narendra Modi and US President Barack Obama will be discussing during the latter's visit to the country on 26 January.
Obama has been invited as the chief guest for India's Republic Day celebrations.
Related