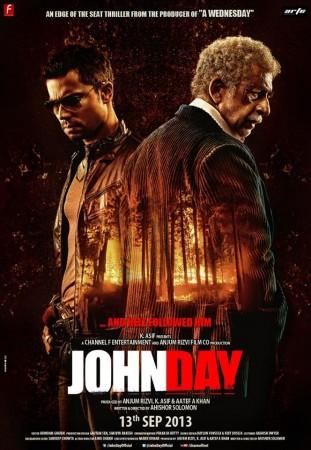 Bollywood's new dark thriller "John Day", starring Nasseruddin Shah and Randeep Hooda, has released today.
The film, which was promised to have a dark and edgy plot, has received poor ratings from critics on its release with most blaming its dull, monotonous treatment and repetiative scenes. The film has Nasseruddin avenging the death of his daughter, and along comes the menacing cop Randeep Hooda with a tainted past.
Here's a look at what critics had to say about the film:
Renuka Vyavahare, of Times of India writes:
"Righteous bank manager John Day (Naseeruddin Shah) is devastated when his daughter is found dead on her clandestine camping trip with a boyfriend to a desolate estate. John suspects foul play when years later, his wife faces a similar fate. The mysterious tragedies ignite his quest for truth and vengeance. Turns out, John is a pawn in a bigger conspiracy that involves gum-chewing-gun-wielding, bad-ass cop Gautam (Randeep Hooda).
"John Day, a rip-off of Spanish thriller Box 507, is dark, edgy and brooding thanks to the execution and background score. The debutante director manages to create a mood of suspense as he keeps things unpredictable, especially towards the beginning. However, as the film progresses, the pace drops, scenes look repetitive and the story gets so convoluted that you lose track of characters and their motives.
J"ohn Day initially gives an impression that it's all about decoding a puzzle or unravelling a mystery at breakneck speed. Unfortunately, that's not the case. It's gripping but like the characters, the plot is way too ambiguous, deceitful and tedious for your liking."
Mohar Basu, of Koimoi.com writes:
"Ahishor Solomon's John Day is an absolute disaster zone despite a promising style of storytelling. Roughly lifted from the 2002 Spanish flick, La Caja 507, the film is tediously monotonous and so insipid that it will seem like a never ending torture that's inflicted on you. The thrilling story goes haywire as the screenplay fails to cement its fiber. A few dialogues are aplomb but the frustrating show is so exhausting that you might spare yourself this horror film.
"The film's setting has a blazing eloquent feel but the script and the screenplay muddle it. At the outset itself, the film is a bad copy of a Spanish film. As the film advances, the story becomes more and more hard to find as you will constantly find yourself compelled to question where is awkwardly set narrative heading. What are the actors chasing? I don't know. There are fleeting references to terms like Casablanca Estate, but you can easily fall asleep for the next 2 hours, only to wake up and find the story hasn't advanced an inch. The ending is almost known and yet put together so unrelentingly unimaginatively."
Mihir Fadnavis of Firstpost writes:
"John Day also doesn't have a good way to make us empathize with the characters of Shah and even the corrupt cop of Hooda. There is no personality in them - they're just cardboard cutouts with hackneyed problems of alcoholic spouses and the guilt of estrangement, both of which are clumsily established and severely underdeveloped. There's a gamut of recognizable faces in the supporting cast including Vipin Sharma, Anant Mahadevan, Shernaz Patel, Makarand Deshpande yet none of them are memorable as such. Moreover, the villains are so poorly sketched out its amusing.
"What really destroys the film is that even in the final hour it never feels like anything is at stake. The climactic scene falls completely limp because the story never makes you care about anything that's going on. The film never presented me a hook to continue watching and ultimately I could finish watching John Day because I am a huge film buff, and the process was a struggle. Most film viewers will be fine skipping it altogether."
Shubhash K. Jha of IANS writes:
"This is no place for the weak. This world as we know it. And this film, as we discover with the thrill of chancing upon an unexpected little gem.
"The story is not for the squeamish. The two main characters are constantly haunted by their irrevocably tragic parts. Naseeruddin Shah and Randeep Hooda, real-life guru and pupil, play people who know no happiness. Incidents from their past continue to shadow and chase their present.
"While the two principal actors get under their characters' skins, other actors seem equally at home in this inky kingdom of greed and gluttony. But the film's third hero is Sandeep Chowta's background score. It creates a world of emotions beyond the spoken words for Naseer and Randeep.
"This is a world where there is no escape from sorrow and grief. Enemies are clobbered and butchered mercilessly. Not because they deserve to die. But because life is as randomly brutal as we make it for ourselves. And cinema such as this reminds us that moral values of good, evil, justice and comeuppance mean nothing to those who have nothing to lose."
Taran Adarsh of Bollywood Hungama writes:
"The first thing that catches your eye is the manner in which the drama unfurls. The two plotlines -- involving Naseer and Randeep -- are kept separate right till the penultimate act, although they do cross each other's path several times in the narrative. The anxiety builds up magnificently -- the showdown between the two is imminent -- which leads to a blood-soaked, volatile finale. The relentless pacing [for most parts] only adds sheen to a plot that never tilts towards the standard format.
"Ahishor Solomon creates a web of mystery, executing a number of sequences with flourish. The thin line that prompts a mild person [Naseer] to turn into an avenger is deftly illustrated by the first-time director. Conversely, the wicked and deceitful cop [Randeep], who loves to inflict pain on others, finds himself at crossroads when it comes to matters of the heart [Elena Kazan]. Although the screenplay does get into the predictable zone at times, I must credit the director and writer for maintaining intrigue, teasing the viewer with unpredictable twists. As a matter of fact, a number of moments stay with you much after the screening has concluded and that speaks of the director and writer's competency.
"On the whole, JOHN DAY is a razor-sharp thriller with an engaging screenplay, high-voltage drama and sterling performances as its aces. A film like JOHN DAY is a leap in the right direction. It reinforces your faith and trust in qualitative films and deserves to be supported. Strongly recommended!"