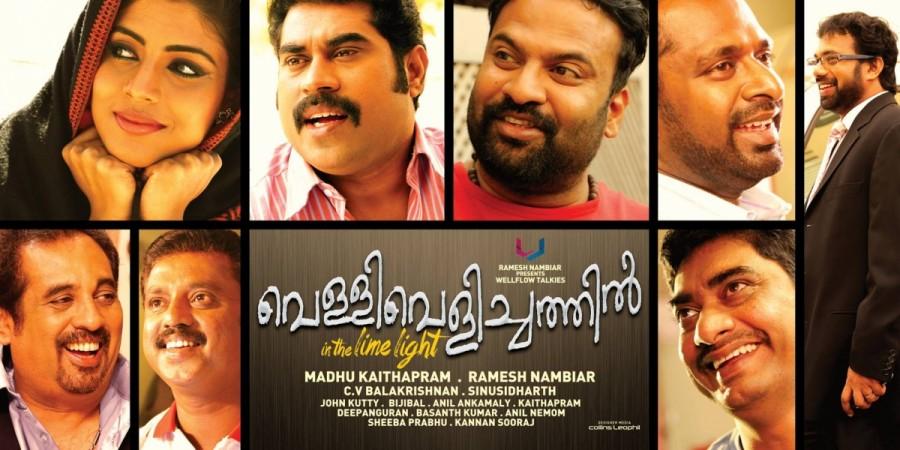 "Velli Velichathil" starring famous television personality and journalist John Brittas is all set to release on 15 August. The film is directed by Madhu Kaithapram who is known for his National Award winning film "Ekantham" (2006), "Madhya Venal" (2009) and "Orma Mathram" (2011).
The theatrical trailer of the film was released on 4 August.
"Velli Velichathil" is the first Malayalam film, which is completely shot in Oman. The film is said to have captured the unexplored beauty of the nation.
"Velli Velichathil" revolves around the life of a few people who are settled in Muscat, the capital city of Oman. Brittas plays the main character of Upendran, who is an employee of a British company. Though his professional life is good, his personal life is going through a rough phase. Not able to adjust with Upendra's life, his wife leaves him. Since then, Upendra indulges himself in drinking. On one of his usual visits to his drinking clubs, he meets a bar dancer, that changes his life forever. What happens next forms the crux of the story.
"In real life, I am a senior executive of leading media organisation. It made my job easy in reel life. Moreover, my exposure to the visual media came handy as I never was shy while facing the camera. We have had many run-of-the-mill films featuring expatriates from Kerala, but this one breaks the monotony," John Brittas said to Times of Oman.
"Velli Velichathil" also has Iniya, Tini Tom, Sreejith Ravi, Lalu Alex, Raveendran and Sudheer Karamana in pivotal roles. While the story, screenplay and the dialogues of the film are written by C. V. Balakrishnan, who is known for his works like "Irattakuttikalude Achan", "Kochu Kochu Santhoshangal", "Mattoral" and "Orma Mathram," the cinematography is done by Sinu Sidharth.
The music is composed by Deepankuran and the lyrics are penned by Kaithapram Damodaran Namboothitri.
The Brittas starrer is produced by Ramesh Nambiar under the banner of Well Flow Talkies.