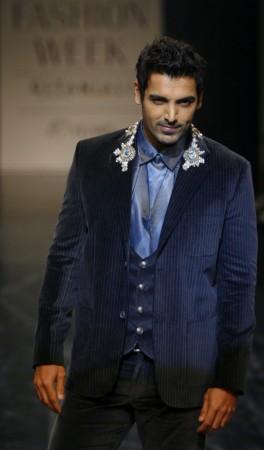 Despite his break-up with long time girlfriend Bipasha Basu, John Abraham is in happy mood.
2012 has proved to be good for him! His movies "Houseful 2" is a huge hits at the box office and "Vicky Donor" is also expected to turn a hit after good opening week. And he has finally found his soul mate in girlfriend Priya Runchal, an investment banker in Mumbai.
"Priya and I have decided to get married this year," John gave the good news in an interview to Times of India.
But he is not sure about the date.
"I know it will be this year, but I don't know when. It could be in a few months or a few weeks. I am a very impulsive guy. So I might decide to get married next week! It's possible that our wedding may have just the two of us, or 10 people, if we include close family members. It will be a registered wedding. There won't be a religious ceremony because he is 'an atheist bordering on being agnostic,'" John said when asked if he was worried about the wedding preparations.
"Because I can be myself with her. There are no pretences. We don't even fight, though we argue sometimes," a proud boyfriend, said when asked about why he chose Priya as his soul mate.
There were rumours that John was seeing Priya while he was with Bipasha. To clear it off, the actor said that he met Priya only in April.
"I met Priya through a common friend and there was an instant connection. I can talk to her about anything. Ours is a very honest relationship. We can tell each other everything. I think that is a benchmark for a healthy relationship," said the actor.
John met Priya in April 2011 through a common friend and has been dating her since June. He is happy about the fact that she did not know about his stardom. He also dismissed the rumours that he and Priya already got married in Los Angeles. He laughed it off saying, ""Why would I hide it if it were true?"
John Abraham is gearing up to produce two more movies this year.