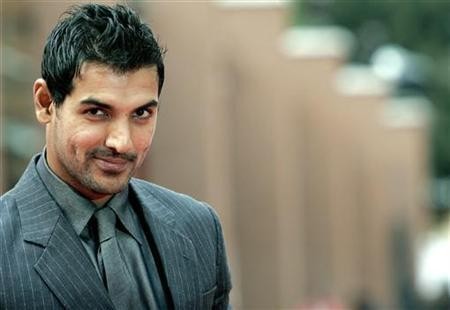 Bollywood actor John Abraham, whose next production venture "Madras Cafe" is set to hit screens soon, said he will don the director'c cap for a big budget film.
John, who forayed into acting opposite Bipasha Basu in "Jism", also commented that his debut directorial will give a chance to newcomers.
Taking a dig at Bollywood superstars and stressing that his big budget flick will only have newcomers, John said, "I will direct a big budget film with newcomers. I don't know why studios don't make big budget films with newcomers! We need to support them," IANS reported.
"Why do we only make big budget films with only top five actors, why aren't we getting mature? We all need to come out of that," he added.
John had earlier revealed his wish to foray into direction said the actors in his wish list included Shahrukh Khan, Aamir Khan and Akshay Kumar. "An interesting person to direct... I would love to direct Shah Rukh! (He is) very interesting because there is a side and a facet about him that is very charismatic and I would not like to play on his strengths, but I would like to get something else out," he had told IANS.
"Madras Cafe" is John's second production venture after 2011's super hit film "Vicky Donor" starring newcomers Ayushmann Khurrana and Yami Gupta. The comedy drama garnered excellent reviews and did exceptionally well at the box office.
Giving a brief about "Madras Cafe", which falls into the genre of gritty thriller, John said, "This would define what I stand for in terms of cinema. I want films that I produce to have credible content and 'Madras Cafe'is that film," he tweeted.
"Madras Cafe", which is based on terrorism and civil war, will feature John as an Army officer, who is appointed by RAW to carry out a secret operation in Sri Lanka.
Directed by Shoojit Sircar, "Madras Cafe" also stars "Rockstar" fame Nargis Fakri. Speaking about the film and John's role in it Shoojit said, "Sometimes we make the performances loud in our Hindi films, but my films have subtle performances, so I have kept him (John) under tone in all the performances (in the film). You will not feel that he is acting, I have kept him in the real zone."
"To do that was not tough as we had rehearsed a lot, discussed a lot and I think we have managed in doing that," he added.
"Madras Cafe" is set to hit screens on 23 August.