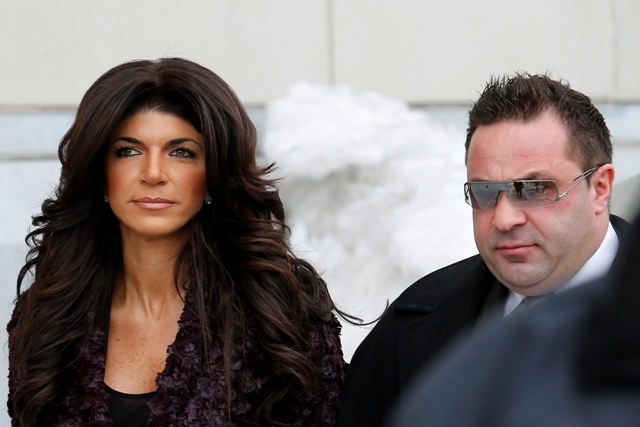 "The Real Housewives of New Jersey" star Joe Giudice checked into Federal Correctional Institution in Fort Dix, New Jersey, Wednesday to commence his 41-month prison sentence, and according to a former inmate, the reality show star's life in prison won't be a cake walk.
Giudice started his prison sentence exactly three months after his wife Teresa was released from the Danbury Correctional Facility in Danbury, Connecticut. She served close to a year in prison for committing fraud.
Giudice, who is also serving time for committing bankruptcy fraud, will have to deal with unpleasant housing conditions besides facing safety issues, Earl David told Radar Online.
David served over 13 months at Fort Dix, and according to him, Giudice will end up in "the camp," which has a dorm-like set up. Elaborating on life in the camp, David said the conditions are somewhat questionable and called the bathrooms "disgusting."
"In some of the buildings the showers are disgusting," said David. "It's horrible and they're falling apart. There's no toilet paper in the bathroom. You have to go to another building to pick up tissue once a month. They give you like four rolls of toilet paper."
David also warns Giudice to be careful and avoid fighting with other inmates. According to him, at least one person got attacked every week. "There are people who are getting attacked all the time," alleged David. "They put a lock in a sock and they whack people over the head. When I was there, every week someone got attacked. It's very dangerous."
Giudice was accompanied by about 10 people, including his wife and siblings, as he surrendered himself to the Federal Correctional Institution at Fort Dix.
"Joe Giudice surrendered himself to the Federal Correctional Institution at Fort Dix today at 12 p.m. to begin serving his sentence," his family attorney James J. Leonard Jr said in a statement to People. "It was obviously a very emotional day, but this is a very strong family with a tremendous support system and they will get through this, just as they did when Teresa was away."