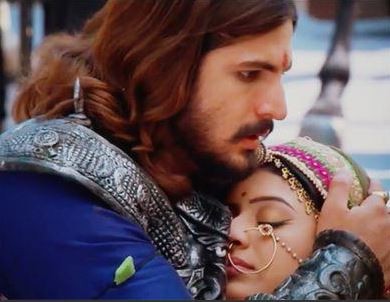 In the latest development of "Jodha Akbar", Jodha (Paridhi Sharma) is seen lying unconscious after she was diagnosed with a rather fatal disease that has spread like wildfire across the Mughal Empire.
Jalal (Rajat Tokas), who was unaware of Jodha's illness, is shocked to learn that his beloved is suffering from a deadly disease.
The emperor, who was supposed to join his son, Salim (Ravi Bhatia), in the battlefield, decides to call off his plan and instead attends to his wife.
Shattered Jalal puts his heart and soul into curing Jodha from the deadly disease and is ready to go to any extend in order to salvage Jodha's life.
However, Jodha's health shows no sign of recovering, instead it declines as days pass by.
The sight of dying Jodha leaves the otherwise mighty emperor heartbroken. He blame himself for being the reason of his Begum's sufferings. Jalal soon realises his mistake and is seen pleading to God not to punish Jodha for his sins.
However, a divine soul makes him find a way out to undo the wrong and save Jodha. Jalal, who had earlier ordered to destroy Peer Baba's cemeteries in order to construct a fort, now marches forward to stop it.
But Jalal's journey to his destination turns out to be a tough one and needs him to fight against all odds to save Jodha.
It now remains to be seen whether Jalal succeeds in saving his beloved wife from the deadly disease or is this the end of Jodha-Akbar love story.