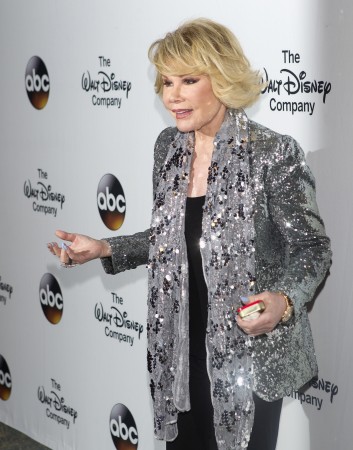 Joan Rivers has left $150 million worth fortune to her daughter Melisa Rivers, her grandson and her four beloved rescue pups. The 81-year-old actress, who passed away on 4 September, had a net worth of $150 million, including a $35-million apartment in New York City and $40 million per year QVC fortune.
Joan died of throat surgery complication.
A known animal lover, Joan made sure when she was alive that her dogs are taken care off even if she passes away. Her four dogs include Samantha, Teegan, Jack Russell Terrier and Border Collie. All of them are rescue dogs.
"Only when you love dogs very much do you let them sit on $300-per-yard French fabric," she once said about her love for the dogs. "Samantha is the little black-haired one and Teegan is my newest rescue. I've never been one of those Fifth Avenue ladies that have to have dogs that match. I am the Angelina Jolie of barkers," reported Hollywoodlife.
Moreover, it is also being said that Melisa has no plans of selling her mother's apartment and is currently sleeping in her mother's bed.
"Melissa has been at Joan's apartment over the past weeks, crying," said an insider to the Website, adding, "She slept in Joan's bed with Cooper (Melissa's son) and held him."
Melissa and Joan apparently had a strong mother and daughter bond. It has been reported by various media outlets that Joan was more of a friend to Melisa, so much so that she shared all her secrets with her. They were more like sisters.
Melisa is reportedly heartbroken and finding strength to move on post her mother's demise. When Joan was alive, she was full of life and wanted to outlive everyone, according to the reports. Even Melisa thought that her mother would outlive her. The actress loved every bit of her life and has left many memories behind her.
"She never slept, not even at her age. She lived life fabulously and even though she joked about dying, she didn't want to. She wanted to outlive everyone, even buildings. The woman had this fire about her and it's crushing to everyone that she's no longer with us. No one saw this coming," a source further told the Website.
Joan was considered one of the funniest women of her times.