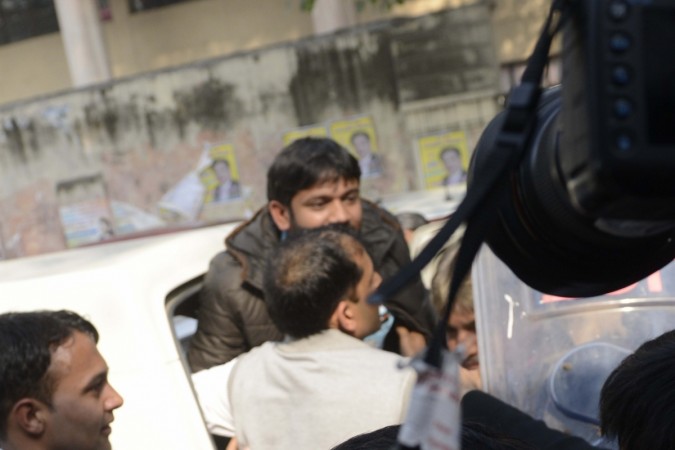 Update, 7:40 p.m.: The Delhi High Court ordered Jawwaharlal Nehru University Students' Union (JNUSU) president Kanhaiya Kumar to furnish a personal bond of Rs 10,000, while granting him interim bail on Wednesday.
Justice Pratibha Rani said that a JNU faculty member will have to stand as Kumar's surety. Kumar will have to produce an undertaking that he will not violate terms of the bail order, Press Trust of India reports.
The court also reportedly asked Kumar to cooperate with the ongoing investigation into alleged anti-national activities on the campus during the Feb. 9 event.
The High Court has vindicated the Delhi Police's stand that anti-national activities took place on the campus, ANI cited Special Public Prosecutor Anil Soni as saying.
HC has put a stamp on Delhi police's investigation.Court vindicated their stand that anti-national activity did take place: Anil Soni,Spl PP

— ANI (@ANI_news) March 2, 2016
Original Story:
The Delhi High Court on Wednesday granted six-month interim bail to Jawwaharlal Nehru University Students' Union president Kanhaiya Kumar. The JNU student was arrested on the charges of sedition and criminal conspiracy for organising an event allegedly against the "judicial killing" of 2001 Parliament attack convict Afzal Guru.
Kumar was arrested from the university campus on Feb. 12, based on the evidence of a video footage of the Feb. 9 event which a national news channel had aired. Kumar and some other JNU students have been accused of shouting anti-India slogans.
He was lodged in Tihar jail after a Delhi court sent him to judicial custody for 14 days.
Kumar was not seen shouting anti-India slogans in a video that was used as a key evidence to slap sedition charges against him, the Delhi Police told the High Court Monday.
Later, Hyderabad-based Truth Labs said that the forensic report of the seven videos of the JNU event showed that two were manipulated, while rest were authentic.
"In the manipulated clips, videos have been edited and voices have been added. The main report, with a supplementary, has been submitted to the Delhi government," Press Trust of India quoted an official as saying.
#flash Kanhaiya Kumar granted interim bail for 6 months by Delhi High Court. #JNURow

— ANI (@ANI_news) March 2, 2016