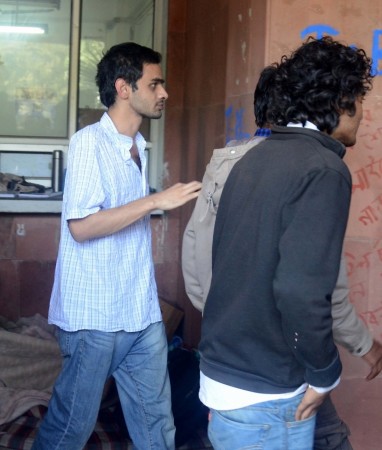 UPDATE: 14:16 p.m. IST -- Umar Khalid and Anirban Bhattacharya reportedly told the police during their interrogation that they had not raised "anti-national" slogans on the JNU campus, according to IANS.
However, they confessed to speaking in favour of Parliament attacker Afzal Guru, according to India Today.
The two JNU students were reportedly questioned for five hours.
Original Story:
Umar Khalid and Anirban Bhattacharya, students of the Jawaharlal Nehru University (JNU) accused of sedition, surrendered to the Delhi Police at midnight Tuesday. The Delhi High Court had earlier in the day rejected their plea for "safe surrender."
The two JNU students, who have been accused of shouting anti-national slogans on the university campus, will be produced in court Wednesday. "Umar and Anirban have faith in the judiciary," JNU Students Union vice president Shehla Rashid told NDTV.
Khalid and Bhattacharya had requested the high court to let them surrender at a secret location, in light of the recent heckling of their college mate and JNU students' union leader Kanhaiya Kumar. However, the court had refused to grant them protection from surrender.
The two were reportedly driven out of campus in a vehicle along with JNU security guards and then arrested by the police, according to The Times of India.
Khalid and his friend were allegedly part of the event on Feb. 9 to commemorate Parliament attacker Afzal Guru.