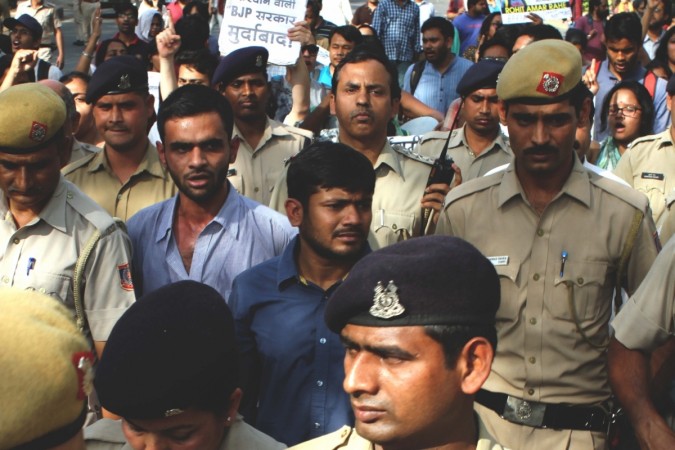 The Jawaharlal Nehru University (JNU) rusticated three students on Monday and slapped a fine of Rs. 10,000 on the institute's students union (JNUSU) leader Kanhaiya Kumar. Kumar was arrested on sedition charges in February when anti-India slogans were allegedly shouted at a programme on the campus.
The university rusticated Umar Khalid for one semester, Anirban Bhattacharya till July 15 and Kashmiri student Mujeeb Gattoo for two semesters based on the findings of a high-level committee set up by JNU to investigate the February event, Press Trust of India reported. Khalid will also have to pay a fine of Rs. 20,000.
Bhattacharya has been asked to submit his thesis in nine days, after which he will be "out of bounds from the entire JNU campus" for five years, the Indian Express reported.
"Based on the report of the high-level committee which arrived at its conclusion based on depositions, perusal of video clips (provided by JNU Security and authenticated by forensic tests), and examination of documents on record, the university has decided to rusticate three students," a senior university official told PTI.
"While Anirban Bhattacharya has been rusticated till 15 July, he will not be able to pursue any course or participate in any activity on campus for next five years from July 23, Umar Khalid has been rusticated for one semester and Mujeeb Gattoo for two semesters," the official said.
The committee found Khalid and Bhattacharya guilty of instigating communal violence and disrupting communal harmony on the campus. Gattoo has been found guilty of participating in the sloganeering.
"Kashmiri research scholar Mujeeb Gattoo has also been rusticated for two semesters after being found 'guilty' of 'participating in objectionable sloganeering during the event'," the IE quoted an official as saying.
JNU has penalised a total of 14 students, including Aishwarya Adhikari whose name was not mentioned in the panel's report and her sister, according to PTI. A fine of Rs. 20,000 has been slapped on ABVP member Saurabh Sharma for blocking traffic during the Feb. 9 event on the campus.
Current and former JNUSU members Rama Naga, Chintu Kumari and Anant Prakash Narayan, and event organisers Reyazul Haque and Rubina Saifi are among the 14 people fined by the university.
Two former students, Banojyotsana Lahiri and Draupadi, have also been barred from entering the campus for the next five years. Hostel facilities have been withdrawn for two students, Ashutosh Kumar and Komal Mohite. While Kumar has been barred for a year, Mohite will not be able to avail the facilities till July 1.
"The recommendation of the Committee for the above disciplinary measures pertains to 'Not following university procedures,' 'providing misinformation to the university,' 'misconduct and indiscipline,' 'causing and colluding in the unauthorized entry of any person into the campus,' 'putting up objectionable poster,' 'arousing communal, caste or regional feelings and creating disharmony among students,' 'furnishing false certificate or false information in any manner,' 'blockade or forceful prevention of any normal movement of traffic' and 'violation of security, safety rules' notified by the university," the Hindu cited a statement from JNU.