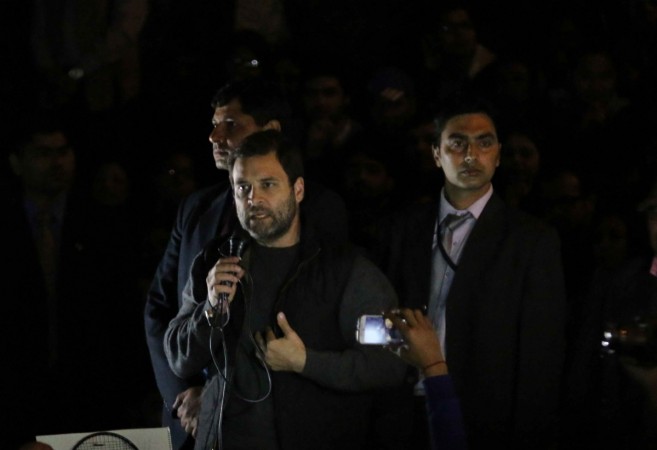 Rahul Gandhi came at the receiving end of sedition complaints following his criticism of the NDA government and the Delhi Police's action against students at the Jawaharlal Nehru University (JNU). Two sedition complaints were filed in courts against him Wednesday accusing him of treason.
A Bharatiya Janata party (BJP) MLA in Rajasthan also attacked the Congress vice-president on Wednesday, calling him a "traitor" and saying that he should be "hanged" and "shot" for supporting "anti-national" students at JNU. Gandhi became embroiled in the JNU issue after he visited the campus last week and accused the Narendra Modi government of "bullying" and "suppressing" the voice of students.
On Wednesday, two lawyers in Allahabad and Varanasi filed petitions against Gandhi claiming he was "guilty of treason" and was liable to be tried under Section 124A of the Indian Penal Code that deals with sedition, according to Hindustan Times.
BJP MLA Kailash Choudhary called for Gandhi to be "hanged." "Rahul Gandhi is a traitor... Such a traitor should be punished...should be hanged...and shot," he said during a farmers' gathering in his Baytoo constituency in Rajasthan's Barmer district, The Indian Express reported.
The JNU row has gripped Delhi and the rest of the nation in recent days, as Home Minister Rajnath Singh said that Pakistani terrorist Hafiz Saeed has supported the Feb. 9 event on the campus, during which Parliament attacker Afzal Guru was hailed and "anti-India" slogans were raised.
The Delhi police arrested the JNU Students' Union leader Kanhaiya Kumar on sedition charges and began carrying out raids in five states to look for other students allegedly involved in the event.
Unruly behaviour by lawyers outside the Patiala House Court where Kumar was brought for trial added to the high drama around the issue, as journalists and JNU staff and students said they were heckled and beaten up by the advocates.
Rahul Gandhi and other Congress leaders are expected to meet President Pranab Mukherjee on Thursday over the JNU row, according to ANI news agency.