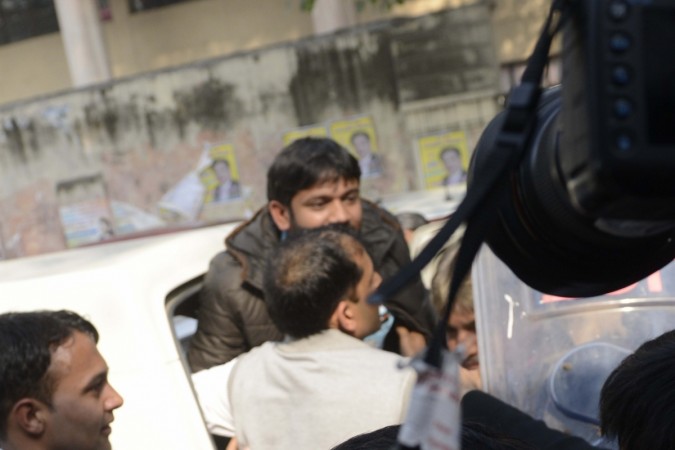 The Delhi Police Wednesday said Kanhaiya Kumar had organised the Feb. 9 event in Jawaharlal Nehru University (JNU) where anti-India slogans were raised.
The police, who had filed a status report Wednesday in the Delhi High Court in front of Justice Pratibha Rani, said Kumar, others accused of sedition and some "foreign elements" were present at the event that took place on JNU campus. The accused concealed their faces, the Press Trust of India quoted the report as saying.
Kumar's bail hearing was adjourned till Feb. 29 as the police have sought remand.
"Kanhaiya may become rallying point to encourage such anti-India movements which would not only spread disaffection but would also be contemptuous since the conviction recorded by the Supreme Court is being termed judicial killing," the Delhi Police told ANI.
"If petitioner (Kanhaiya) is released on bail, it would send a wrong signal to the student community across country that such anti-India activities can be conducted with immunity and eventually one comes out after imprisonment of couple of weeks/days," the police added.
The police also said it is investigating "persons and organisations behind such non-educational activities in campus and object behind it in larger national perspective."
The investigation will be "adversely affected if Kumar is given bail," the police said.
The status report was filed during Kumar's bail hearing. It said if released he was likely to commit such acts again.
Umar Khalid and Anirban Bhattacharya, the other accused in the sedition case, surrendered Tuesday night to the police and have been questioned by the authorities.
The Delhi High Court directed the police that Kumar, Khalid and Bhattacharya be produced in a "safe place" for remand proceedings.
Kumar was earlier beaten by lawyers outside the Patiala House Court in Delhi, which fuelled fears for their lives and the need to ascertain safety of the accused.