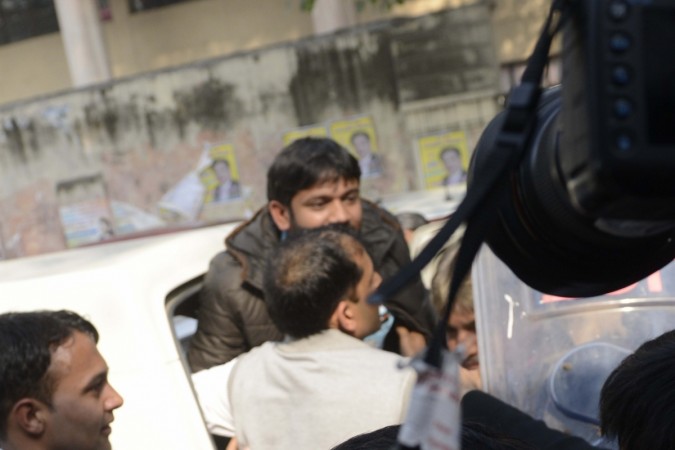 Delhi Police Commissioner BS Bassi said Tuesday they would oppose Jawaharlal Nehru University students' union (JNUSU) president Kanhaiya Kumar's bail, as he was "bound to" influence the investigation if released. Earlier, he had said Kumar's bail would not be opposed.
The Delhi Police in a report submitted Tuesday to the Delhi High Court said Kumar was present with a group that was raising anti-national slogans, and was involved in anti-national activities Feb. 9. However, the report doesn't mention whether "Pakistan zindabad" was among the slogans.
"If Kanhaiya Kumar comes out on bail, he is bound to influence investigation and witnesses that is why we have opposed his bail, (sic)" Bassi told ANI Tuesday.
Meanwhile, the Delhi High Court moved Kumar's bail hearing to Wednesday. The court has asked the police to submit a detailed report Wednesday in an unsealed envelope so Kumar can access it as well.
The pre-charge sheet report supposedly does not correspond to the video provided by a news channel, according to the Hindustan Times. In the police FIR against Kumar and other JNU students, slogans condemning Parliament-attack convict Afzal Guru and "Pakistan zindabad" were mentioned after the channel broadcast the footage, reported HT. A journalist who resigned from the channel has said the pro-Pakistan slogan was not audible initially. The Delhi Police have asked for the original memory card that had the footage for forensic investigation.
Other JNU students accused of sedition — Umar Khalid and Anirban Bhattacharya — have filed a peititon in the high court seeking protection for when they surrender, whereas Rama Naga and Anant Prakash Narayan have filed for anticipatory bail.
The students have been accused of raising 28 slogans, including "Afzal Guru Maqbool Bhatt Zindabad," "Kashmir ki azaadi tak jung rahegi, Bharat ki barbadi tak jung rahegi," "Go India go back," "Indian Army murdabad," "Kitne Afzal marogey har ghar se Afzal niklega," and "Bandook ke dum pe lengay azadi," according to HT.