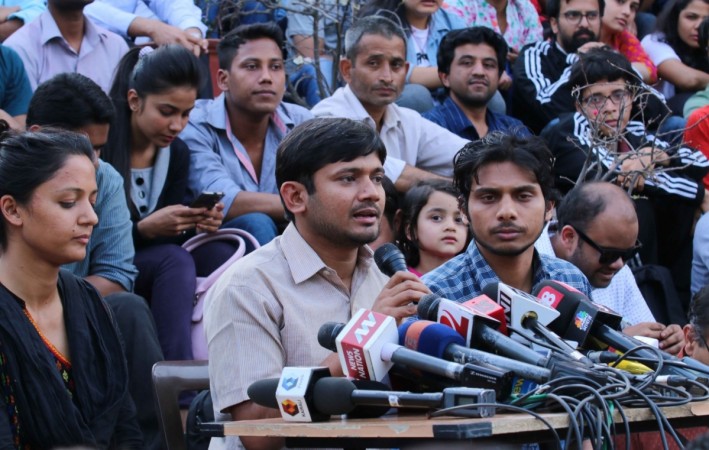 Update: 5.46 p.m. IST: Jawaharlal Nehru University (JNU) students union president Kanhaiya Kumar denied reports of suspension Tuesday. He said that he received a show-cause notice from the university and that does not have any mention of a suspension.
ANI quoted Kumar as saying that he has been asked to respond to the notice by 5 p.m. Wednesday.
An inquiry panel investigating the event that took place Feb. 9 reportedly recommended suspending Kumar, Umar Khalid, Anirban Bhattacharya and two others. Meanwhile, 21 students, including the three facing suspension, were issued a show-cause notice.
Original Story: An inquiry panel instituted by the Jawaharlal Nehru University (JNU) recommended Monday suspending five students, including Kanhaiya Kumar, Umar Khalid and Anirban Bhattacharya, over the Feb. 9 event, held to commemorate Parliament attacker Afzal Guru. It also suggested that other students should be fined for violating university norms.
The final decision lies with Vice Chancellor (V-C) M Jagadesh Kumar and Chief Proctor A Dimri, sources told the Press Trust of India.
Show cause notices were issued to 21 students, including Kanhaiya and Khalid, for violating the university's rules and regulations. Punishment for the violations range from suspension for two semesters to fines, the Hindustan Times reported. The decision was taken at a high level meeting headed by the V-C where the inquiry committee report was discussed.
"The high-level committee has recommended rustication of five students after its investigation over a month's time. However, the final call in this regard will be taken by the vice chancellor and proctor's office," sources told the PTI.
The inquiry panel was formed on Feb. 10 and it had preliminarily suspended eight students who were suspected to have organised the event commemorating Parliament attacker Afzal Guru on his death anniversary. The university had later said that permission for the event had been cancelled. The eight students' suspension was revoked March 11.
Other students had refused to depose before the panel arguing that it did not comprise of an SC/ST member, and that a fresh panel be formed. The university-level panel said that students will be given three chances to appear before the panel, failing which the inquiry would move forward with whatever evidence was at hand, the PTI reported.
"As per the report, some students have been found to have violated the university's rules and norms. There are standard provisions in the university rules to take action in such cases. The high level inquiry committee recommendations are based on the rules of discipline and proper conduct of JNU," DNA quoted the university administration statement as saying.
Meanwhile, Umar Khalid and Anirban Bhattacharya are due to appear before a Delhi court this week after being in judicial custody for 14 days, the DNA reported.