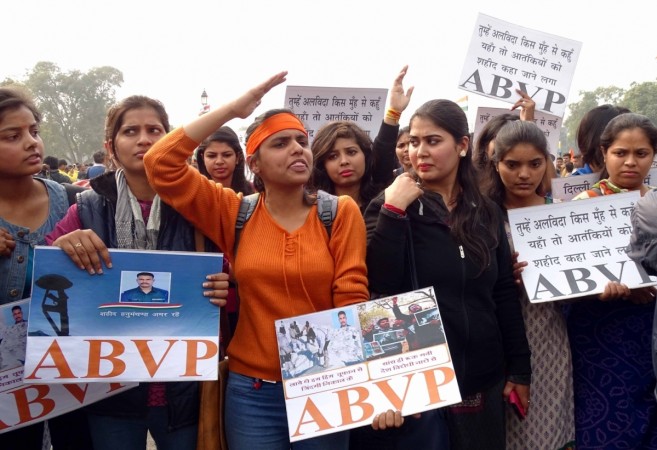 The Delhi Police detained seven students from Jawaharlal Nehru University (JNU), Saturday, in relation to the event hosted on Feb.9 to protest the hanging of Parliament attack convict Afzal Guru.
The event was condemned by various members of the community in their own way. While former army officers who are alumni of the university reportedly threatened to return their degrees, Akhil Bhartiya Vidya Parishad (ABVP) members staged protests.
The politically active university found itself in trouble when BJP leader Mahesh Girii complained about "anti-national activities" after students held an event in to raise their voices against Afzal Guru's hanging.
The president of the students' union of the university Kanhaiya Kumar was arrested on Friday night on charges of sedition, reported NDTV. He has alleged in a court hearing that the ABVP was acting out on a political vendetta since he won the student polls in the university, reported Hindustan Times. He also distanced himself from the anti-India sloganeering that took place on Feb. 9 in the campus.
At least eight students were also debarred from academic activities until a disciplinary inquiry is complete.
The police, which picked up Kumar in plain clothes, were permitted to enter the campus and conduct search for other students who were part of the event. Meanwhile, teachers condemned the presence of police on campus saying that they were a "threat to democratic ethos", reported NDTV.
JNU Vice Chancellor Jagdeesh Kumar on Friday released a statement saying, "While the JNU community upholds the right to free debate on campus, the university strongly condemns the use of the university as a platform for activities that violate the Constitution and the laws of the land."
He also urged the community to "return the campus to normalcy" and said an inquiry committee has been set up.
On Friday, Home Minister Rajnath Singh and Human Resource Development Minister Smriti Irani expressed their displeasure and said action will be taken against the students.
On the other hand, political leaders such as Congress vice president Rahul Gandhi and Communist Party of India (Marxist) chief Sitaram Yechury slammed the Bhartiya Janta Party's use of force in the university. While the former leader called it "bullying", the latter compared the situation in JNU to 1975-77 period of Emergency in India.