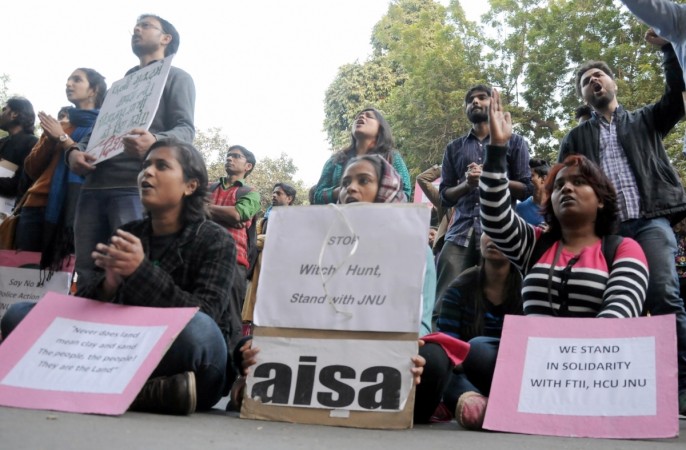 Five Jawaharlal Nehru University (JNU) students accused of sedition, who resurfaced on the campus Sunday night, have reportedly refused to surrender to the police. They had been missing since Feb. 12.
Ashutosh, Anant Prakash Narayan, Rama Naga, Anirban Bhattacharya and Umar Khalid returned to the campus Sunday night and students gathered at the administrative block as the five addressed the crowd.
"In the last seven years in campus I never felt I was a Muslim and in last 10 days I was made to feel, I was a Muslim. I am a Muslim but not a terrorist," Hindustan Times quoted Khalid as saying.
"We had taken the decision to flee because of the atmosphere that had been created," Ashutosh told The Times of India. He is the secretary of All India Students' Association (AISA) in Delhi.
On Sunday night, the Delhi Police arrived outside the JNU campus but were not allowed to enter, reports ANI. The university administration was earlier criticised by faculty and students for allowing the police to conduct raids in hostel rooms in search of students allegedly involved in the Feb. 9 event where anti-India slogans were raised.
"We cannot enter the campus to make arrests without permission from the JNU administration. We will wait outside the campus if they want to surrender," a senior police officer told the Indian Express.
The five students, who were named in an FIR along with JNU student president Kanhaiya Kumar — currently in Tihar jail — had fled the campus fearing for their lives. They returned after students expressed solidarity with them. The video showing them shouting anti-India slogans is also being examined for being doctored.
"We were afraid there would be mob attack and the police were going from room to room to check. The media trial — targeting us and branding us as 'anti-nationals' and terrorists — was also worrying us," Ashutosh said.