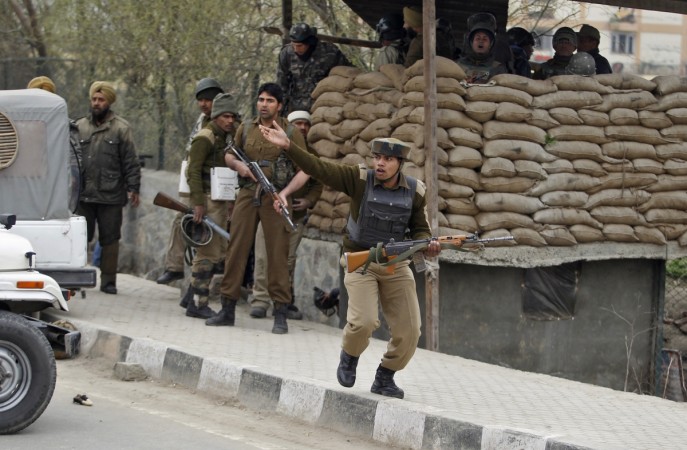 Suspected militants shot down one civilian early on Monday morning in Mundji village on the outskirts of Jammu & Kashmir's Sopore region.
Civilian shot dead by unidentified gunmen in Sopore in north Kashmir. Six civilians have been killed in the area in the last three weeks.
— NDTV (@ndtv) June 15, 2015
The deceased has been identified as Ajaz Ahmad Reshi. The villagers, who witnessed the incident, tried to chase the militants but they opened fire at them. In the process, a dog attacked the militants, who shot the pet dead.
"There were three-four people but they (gunmen) fired directly on him (Reshi). They were two gunmen, clean shaven," The Indian Express quoted a villager as saying. When Reshi was shot, he was going for medical tests at a village diagnostic centre.
"The dog chased them, jumped on one of them and overpowered him... The other assailant turned back and fired the dog in his head. They fired several shots while escaping from the village," an eyewitness said.
A father of three sons and a daughter, Reshi was living a normal life after serving several years in jail as a militant.
At least six people are said to have been killed in militant attacks in the last three weeks. The civilians became victims of the militant attack on a BSNL franchise in Sopore in May this year.
Ahead of Monday's incident, another former militant was killed by unidentified men in north Kashmir's Sopore region. Mehraj-ud-Din Dar, 42, was shot at outside his shop at Badam Bagh. He died on the way to hospital.
"He was shot from point blank range with a pistol. Two bullets hit his head and two in his abdomen. He was rushed to Sub-District Hospital Sopore, but succumbed on the way," Greater Kashmir quoted a police official as saying.