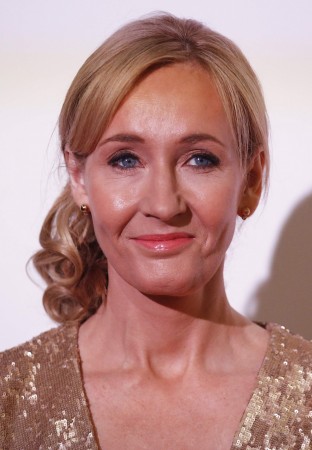 JK Rowling, the author of the super-successful "Harry Potter" books, has caused outrage amongst fans with her latest statement that Hermione Granger's ideal partner was Harry, not Ronald Weasley.
Rowling, in an interview to Wonderland Magazine, has herself questioned the credibility of the Hermoine-Ron pairing. She said the move was done merely as a "wish fulfillment". She claimed that Hermione should have married the boy wizard, instead of Ron.
"I wrote the Hermione/Ron relationship as a form of wish fulfillment. That's how it was conceived, really," Rowling said, according to excerpts of the interview published by The Sunday Times. "For reasons that have very little to do with literature and far more to do with me clinging to the plot as I first imagined it, Hermione ended up with Ron."
"I know, I'm sorry. I can hear the rage and fury it might cause some fans, but if I'm absolutely honest, distance has given me perspective on that. It was a choice I made for very personal reasons, not for reasons of credibility. Am I breaking people's hearts by saying this? I hope not," she added.
The interview was taken by Emma Watson, who played the character of Hermione in the "Harry Potter" films. The 23-year-old actress also shared Rowling's views. "I think there are fans out there who know that too and who wonder whether Ron would have really been able to make her happy," Watson stressed.
Meanwhile, Rowling went on to add that she felt that Hermione and Ron's relationship would require 'marriage counseling', thus disheartening several fans of the pair in the fiction series.
Muggle Net, the "Harry Potter" series' topmost fan site appeared shocked with the comment.
Harry/Hermione WHAT? http://t.co/dhkuSnQrT9

— MuggleNet.com (@MuggleNet) February 2, 2014
Most fans opposed Rowling's statements, opining that Ron and Hermione are the perfect couple, as the characters completed each other. However, a section of the fans agreed with Rowling's view that considering Harry's par excellence attributes, Hermione would be have been the apt choice as his partner, not Ginny Weasely.
In the epilogue of the seventh book of the series "Harry Potter and The Deathly Hallows", Harry is seen settled down with Ron's younger sister Ginny, with the couple having three children. Whereas, Ron and Hermione are shown as a couple.
(The quotes of the stories have been taken from the Twitter preview of The Sunday Times article)