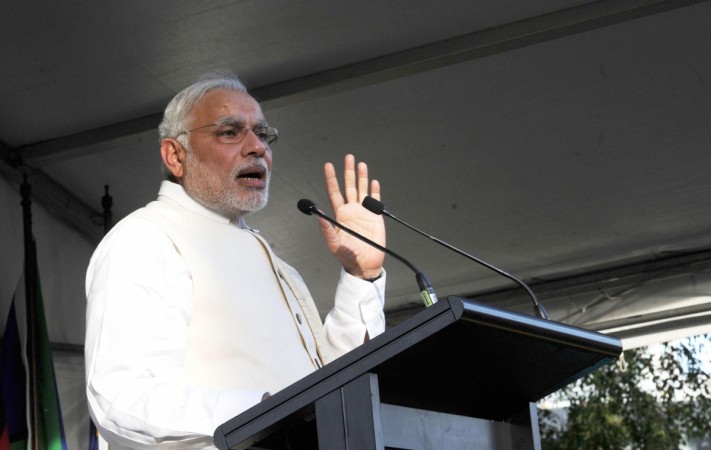 Prime Minister Narendra Modi visited Jammu & Kashmir on Friday as part of his electioneering for the second phase of assembly elections to be held in the state on December 2. At the rally in Poonch and Udhampur district, he promised to come back again in 2015 and said he'll visit the Valley only "with a message of development."
"I may have come here for the first time as the PM but I have earlier worked for the party organisation and have travelled to this area by bus. I came here in 2014; I will come in 2015 as well. But whenever I come here, I come with a message of development," Daily News & Analysis quoted Modi as saying.
Addressing people from both the districts, Modi thanked them for the high voter turnout in the first phase of the assembly election on 25 November. "Terrorists feel they have scared the people with guns and bullets, but the power of democracy is still alive in Jammu & Kashmir," said Modi addressing an over 70,000-strong crowd.
Modi then commented on how no other Prime Minister had visited the Valley after Morarji Desai. "It takes only 24 hours to reach here from Delhi, but it took almost 40 years for a PM to come here. Morarji Bhai Desai was the last PM to come here," Modi said.
Modi's campaign rallies were laced with self-praise when he reiterated his commitment for the people of J&K. "I'm a 'pradhansevak' who is determined to do something for Jammu and Kashmir," Modi said.
Talking about his visit to the Valley during Diwali, Modi said "I had decided that I will spend Diwali with those who suffered due to floods and that is what I did. It's not about politics."
Further in his campaign speech, he condemned the ruling political party for not being able to bring development to the state in 30 year and promised to give them what they deserve within five years.
"I will accomplish in 5 years what hasn't been done in the past 30 years. We will find out where this money allocated for Jammu and Kashmir is going. The ruling party here criticises me and so does the opposition because I have stopped their loot. There has been so much money sent to J&K by the Centre that this should have been the richest state but it remained deposited with a few families," Deccan Chronicle quoted Modi as saying.
He asked the crowd to vote for BJP to end the father-son and father-daughter tradition and their dynastic rule in the state. Udhampur and Poonch will go to polls on 2 December, along with several other regions out of 87 assembly constituencies in Jammu & Kashmir.