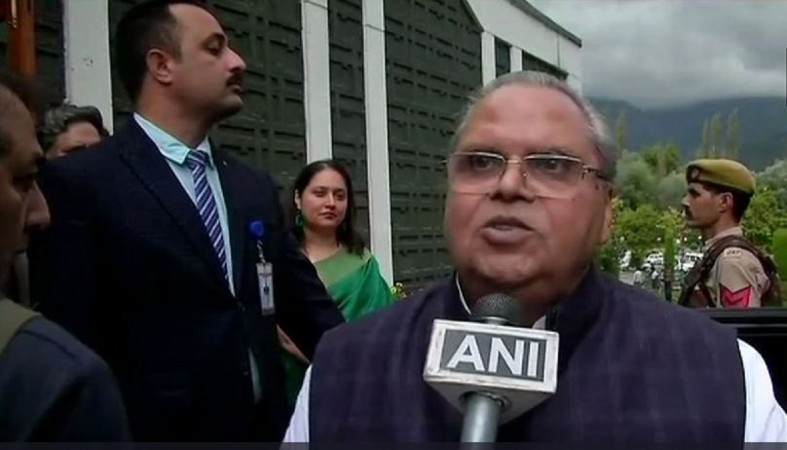 As the clamour against the proposed change in the Permanent Residence Certificates (PRC) issuance rules has grown in Kashmir, the state governor Satya Pal Malik on Sunday clarified that his administration did not intend to change the Act governing such rules.
Malik, in a reply fax to the former chief minister Omar Abdullah, stated that he is not even considering any changes in the rules that deal with the PRC issuance.
He further said that no changes in the procedural rules governing the case of issuance of PRC will ever be made without consulting the stakeholders so as to avoid the unnecessary apprehension in the minds of anyone.
Malik said that there were suggestions put forth by the State Revenue department regarding the deadline of issuance of PRCs was a routine administrative exercise aimed at avoiding the delay for those applicants who are already deemed eligible.
Earlier, Omar had tweeted a letter he sent to Malik where he expressed his apprehensions over the changes in the working of institutions and issuance of PRCS that could be detrimental to the state's special status.
Omar wrote that the State Accountability Commision cannot unilaterally make such sensitive decisions especially at a time when there is not an elected government n place in the state.
I'm trying to fax a letter to @jandkgovernor but the fax machine still isn't working. The operator who answered the phone says the fax operator is on holiday as it's a Sunday. Will attempt again tomorrow in the mean time am forced to put the letter out through social media. pic.twitter.com/SykDQQPiOU

— Omar Abdullah (@OmarAbdullah) December 2, 2018
Even Omar's political rivals, Peoples Democratic Party President, Mehbooba Mufti and Peoples Conference Chairman, Sajad Lone warned the Governor of making any changes which could possibly fiddle with the rules linked to Article 35 A that provides special status to the state.
"The governor administration needs to restrict itself to basic governance. No structural changes pertaining to PRC or J K Bank are acceptable. Restrict your energies to what u r mandated to do— which incidentally u r not doing. Please don't invent new problems." Lone tweeted.
The governor administration needs to restrict itself to basic governance. No structural changes pertaining to PRC or J K Bank are acceptable. Restrict your energies to what u r mandated to do— which incidentally u r not doing. Please don't invent new problems. — Sajad Lone (@sajadlone) December 2, 2018