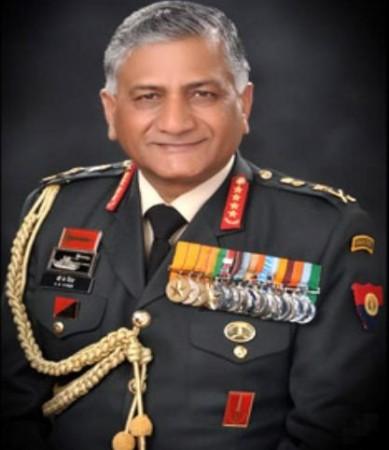 The Jammu and Kashmir assembly on Monday passed a resolution seeking a probe in ex-army chief's statement that the state's politicians have been receiving pay-offs since 1947.
The battle between General Singh and the J&K government intensified on Monday when Chief Minister Omar Abdullah compelled the Centre to probe statements made by the former Indian Army Chief.
Describing the allegations made by Gen (retd) VK Singh as 'a weapon for our enemies', Abdullah said, "The charges, being of serious nature, need to be probed in order to arrive at truth, which can be shared with the general public. Without any specific details, the finger of suspicion is being pointed towards all mainstream politicians."
In an interview with TV news channel Times Now, General Singh had claimed that ministers in the J&K government have been paid since Independence to keep the state stabilised.
"The Army transfers money to all the ministers in Jammu and Kashmir... there are various things to be done. As part of the stabilising factor in Jammu and Kashmir, as part of the activities to be organised. Maybe not all the ministers but certain ministers and people who are given a certain sum to get a particular thing done," he said.
Asked whether Abdullah was aware about such monetary transfers, Singh said, "If as a chief minister you do not know this, you are not running the state".
He also said that Defence Minister AK Antony was aware about the funds transferred to the J&K ministers.
Demanding a time-bound probe into the statements, Abdullah in an address to the Assembly on Monday said, "This has caused enormous damage to the institutions of democracy in the state and allowed forces inimical to the democratic processes here to paint all mainstream politicians as paid operatives of the Army."
He also requested Prime Minister Manmohan Singh to disclose names of the ministers who had received such payoffs.
On the report received by the Defence ministry that J&K Agriculture minister received ₹1.9 crore to topple the state government, Abdullah said, "I know no government can be toppled by mere 1.19 crore rupees," he said. "I am convinced Mir has not received any funds from the former army chief. Otherwise, I would have asked for his resignation."