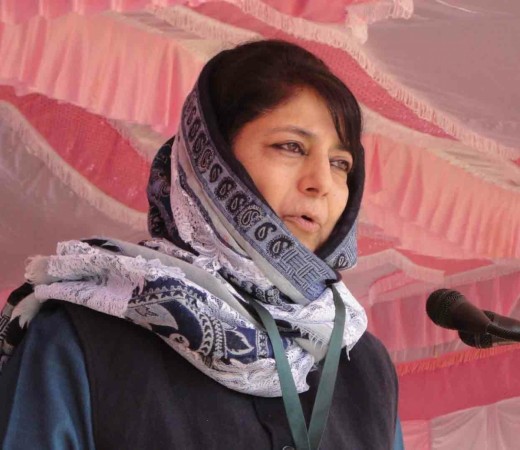 Peoples Democratic Party chief Mehbooba Mufti created history Monday by becoming the first woman chief minister of the Jammu & Kashmir, after the state was under the Governor's rule for more than three months. The PDP-BJP alliance was revived Monday as its members were sworn in as cabinet ministers by J&K Governor NN Vohra.
The swearing-in ceremony was attended by the Union ministers M Venkaiah Naidu and Jitendra Singh in the state's winter capital, Jammu.
The Congress, however, skipped the swearing-in ceremony, saying the PDP-BJP alliance was an unholy one. The party reportedly lashed out at the BJP for destabilising Congress-led governments in various states.
The new J&K cabinet has 11 members from PDP and BJP each. Sources told the International Business Times, India, senior BJP leader and Jammu University professor Nirmal Singh would take over as deputy chief minister while as Haseeb Drabu, PDP's legislator from a South Kashmir constituency and former chairman of J&K Bank, was likely to retain the position of finance minister of the state.
The BJP-PDP alliance has retained most of its ministers from the Mufti Mohammad Sayeed-led PDP-BJP government in the state.
After the death of Mehbooba's father and former chief minister Sayeed, questions loomed large over the fate of the alliance, especially due to continuous delay in government formation by Mehbooba. Last month's meeting between Mehbooba with Prime Minister Narendra Modi, however, sealed the deal for both parties.
The PDP has 27 MLAs while the BJP has 25 MLAs in the 87-member J&K Assembly. J&K-based Peoples Conference, which has two MLAs in the Assembly, has supported the BJP while two independent MLAs have supported the coalition.
Meanwhile, West Bengal Chief Minister Mamata Banerjee congratulated Mehbooba Mufti on Twitter after she took oath as the J&K chief minister.
Leaders of The PDP's arch-rival National Conference took a dig at the rumoured media gag on the swearing-in ceremony.
"This has never happened before & certainly wasn't the case in 2009 or 2015. Can't fathom why #BJPDP media managers have done this? #mediagag, [sic]" Omar Abdullah, NC president and former J&K chief minister, tweeted.
This has never happened before & certainly wasn't the case in 2009 or 2015. Can't fathom why #BJPDP media managers have done this? #mediagag

— Omar Abdullah (@abdullah_omar) April 4, 2016
Jammu: Mehbooba Mufti taking oath as first woman CM of Jammu and Kashmir pic.twitter.com/jKrjSasnHa — ANI (@ANI_news) April 4, 2016
Congratulations to the new Chief Minister of Jammu & Kashmir, Mehbooba Mufti

— Mamata Banerjee (@MamataOfficial) April 4, 2016