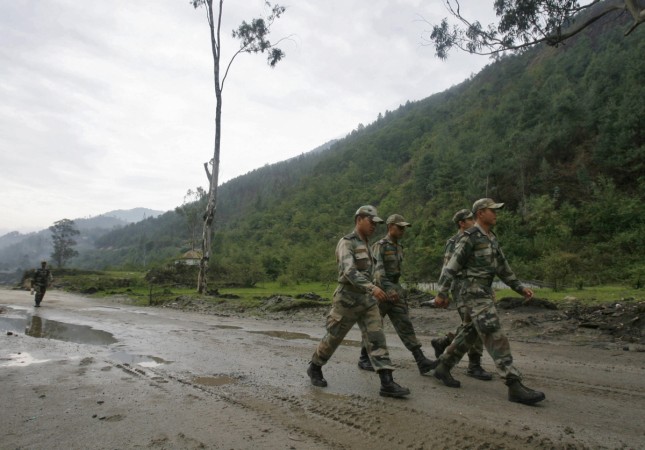 India's armed forces seem to have a lot on their plate these days with constant cross-border firing and almost daily infiltration bids on the border with Pakistan. But it seems our men on the frontier may have to make room for more due to recent cross-border incursions by China's People's Liberation Army (PLA) along the Line of Actual Control in Jammu and Kashmir's Leh district.
According to the Hindu, the Indo-Tibetan Border Police (ITBP) is in the midst of a face-off with the PLA, which has come close to the Indian side of the LAC and refuses to return. The stand-off began after 55 Chinese troops disrupted an ongoing civilian project of linking a village with 'Hot spring' in the region that is being brought under the Mahatma Gandhi National Rural Employment Guarantee Act (MNREGA) scheme.
"They came on Wednesday afternoon and stayed till night. They returned and came back this morning again. It's an eyeball-to-eyeball situation there," an official was quoted as saying by the daily.
The Chinese troops demanded that work be suspended as either side needs to take permission before undertaking any work. Their claim is disputed by the India who argues that information about construction needs to be shared only if it was meant for defence purposes according to the international agreement between the two countries.
Around 70 personnel from ITBP and army rushed to the spot and fortified the area to prevent a deeper incursion into Indian territory. According to PTI, senior sources said that both sides have pulled out banners and have been stationed on the ground.
"[There are] routine objections and clarifications which either party seek whenever there is construction related activity. The issue is being resolved through established mechanisms," an anonymous senior official was quoted saying to NDTV.
The face-off comes days after Prime Minister Narendra Modi interacted with ITBP personnel at Mana in Uttarakhand's Chamoli district. Mana is the last village before the Mana Pass and is 24 kilometres from the border of India and China.
Disputes due to unsettled boundary issues between India and China are a recurring theme as the two neighbours share a 4,000 km border stretching from Jammu and Kashmir to Arunachal Pradesh.
The last time when PLA ventured deep into the Indian side was in 2014 when they protested an irrigation project in Demchok. The residents of Demchok village had demanded resettlement in April after their efforts on laying a drinking water pipeline linking a hot spring were met by objections from China.