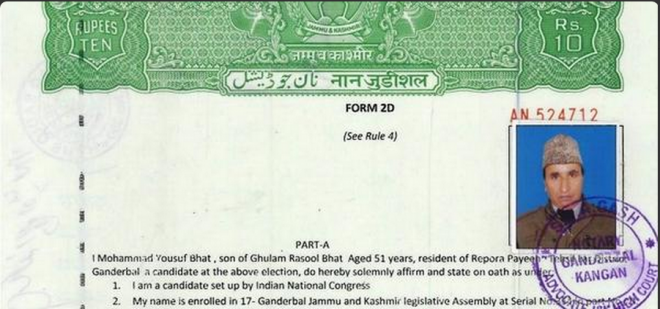 Jammu & Kashmir Congress candidate Mohammad Yousuf Bhat, representing the Ganderbal constituency, sparked a controversy by mentioning his "unmarried daughter's marriage" as a liability in the poll affidavit submitted along with nomination papers ahead of the assembly polls.
His listing of his daughter as a liability has raised a social media storm and users have condemned his action. "Daughters of Mohammad Yousuf Bhat should disown him," tweeted Maulbi Sahab.
The All India Democratic Women's Association too reacted on his declaration and said his candidature must be withdrawn.
Such candidate's nomination shouldnt be approved, women voters shud make sure he (Mohammad Yousuf Bhat) doesnt win: J Sangwan (AIDWA)

— ANI (@ANI_news) November 11, 2014
Even his daughter was disappointed at her father's declaration and reportedly said, "It is regrettable to term daughters as burden when women are excelling in all spheres."
However, Bhat said that his words were misinterpreted and his intentions misunderstood. He said that "he is a unlettered man and couldn't understand the difference between 'responsibility' and 'liability'," Zee News reported.
"My daughter is not a burden on me as is being said. My sons are earning but my daughter is not. So she is dependent on me. I do not think there is any problem when I say my daughter is dependent on me and I have to take care of her marriage. A wrong impression is being created," Bhat said.
He said that as his daughter was not earning, he had a greater responsibility to get her married and give her everything needed for her marriage and her life.
"She is not earning yet and I have to make sure she has everything for her marriage. I have kept a certain amount in bank for her marriage which I described in my affidavit, but she is not a liability," he said.