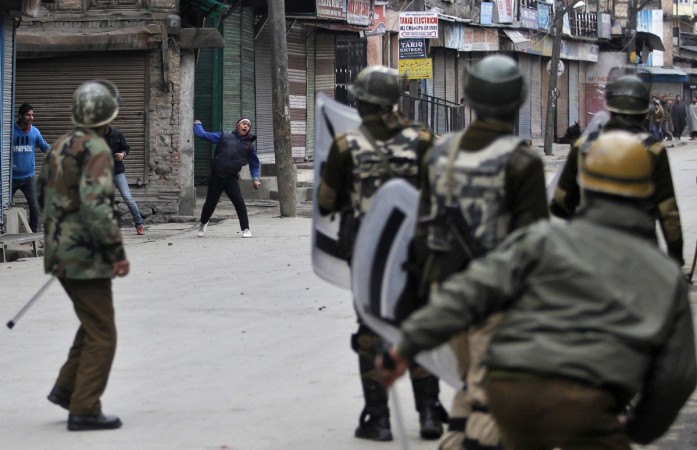 All Parties Hurriyat Conference (APHC) Chairman Syed Ali Geelani on Tuesday demanded that an "independent agency" investigate the killing of a youth and a woman in a police encounter on Monday in the Kud town of Udhampur district. His demand comes a day after the youth's family said he was not a militant, as claimed by the Jammu & Kashmir government.
The state police's description of the encounter was "not trustworthy because this institution has a very bad track record in such matters," Greater Kashmir reported, quoting Geelani. The police had said the youth from Bemina, Tanveer Sultan Sheikh, was killed in the police firing in retaliation to shots fired by him, according to Press Trust of India.
"Indian forces deployed in Jammu and Kashmir look at every Kashmiri with suspicion. They take it as their 'national duty' to harass and kill Kashmiris. So far thousands of Kashmiri youth have been killed in mysterious conditions and dubbed as militants for medals and rewards," Greater Kashmir quoted Geelani as saying.
Tanveer's family has asked the government to prove the 31-year-old was a militant, according to another Greater Kashmir report. He was a psychiatric patient and was undergoing treatment in Amritsar, the family said.
"How can an active militant stay at home? I believe the claims made by the government so far are fabricated," Tanveer's brother Arshid Sultan Sheikh said.
"He was suffering from bipolar psychiatric disorder but with the treatment the severity of it had decreased over several years," he said, adding: "The government must prove my brother was a militant."
Arshid said Tanveer had affiliations with the Lashkar-e-Taiba, but after his arrest in 2004, he distanced himself from extremism and was "living a normal life with the family."
Tanveer was travelling on a State Road Transport Corporation (SRTC) bus when the a Central Reserve Police Force (CRPF) and local police team stopped it at a check point. Tanveer fired shots at the security forces, who opened fire in retaliation, Director General of Police K Rajendra Kumar told PTI.
"The Police and CRPF were searching all the Jammu-bound vehicles at the Kral Nallah area in Kud when they stopped an SRTC bus, and during its checking, an unidentified suspected militant opened fire at them this evening," Kumar had said on Monday.
Two women and a child were injured in the encounter, and one of the women died while being taken to hospistal. Tanveer was killed in the cross-firing and the police reportedly recovered an AK-47 rifle and a pistol from him.
"It was just random checking of vehicles when the police and the CRPF team were attacked. While the militant was gunned down, three civilians including two women and a child were injured in the firing," Kumar said.
Protests were held on Tuesday against the killing in Tanveer's hometown.