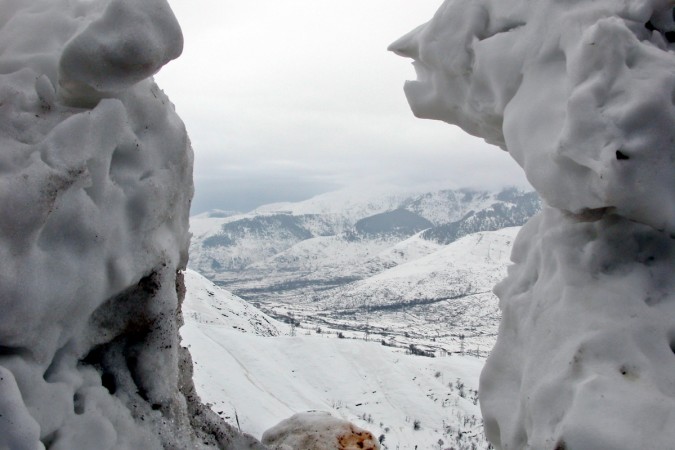 A huge avalanche of snow struck a Tata Sumo that was en route from Kupwara to Karnah in Jammu and Kashmir on Friday evening. The vehicle was reportedly carrying passengers who were caught in the avalanche in North Kashmir border area.
It is reported that 11 passengers are confirmed dead as rescue operations have stopped, as per local reports.
The incident reportedly happened at 4 pm on the Sadhna Pass which is at a height of 3,000 metres in the Tangdhar region of Kupwara District.
The location of the incident — Sadhna Pass — is mostly closed for six months in winter due to its inaccessibility. The Pass connects Kupwara with the border town of Karnah — the route that the passenger cab took during the unfortunate incident.
One of the 11 victims of the avalanche was a one-year-old baby, while a seven-year-old boy was rescued from underneath the snow, say local reports.
A few passengers managed to survive as the rescue operations progressed in full swing with rescue teams comprising of the police, Army, Mountain Rescue and State Disaster Response Force.
A Border Roads Organisation engineer was rescued during the operation but unfortunately could not be revived due to the scarcity of doctors at the site.
A police officer confirmed to IANS: "Engineer Mangla Prasad Singh was killed. His body has been recovered," he said.
Rescue operations were considered to be extremely difficult in the frigid cold conditions as the temperatures dropped down several degrees below zero.
Avalanches have become a frequent occurrence in the northern part of the state of Jammu and Kashmir, with several Army outposts being struck in the past.
As per reports on Zee News, three soldiers went missing when the outpost in the Gurez region was hit by a huge avalanche of snow. Their bodies were recovered a few days later.
A similar incident happened in the month of December when two soldiers fell down a gorge in the Nowgam area in Jammu and Kashmir.
The Met department has predicted that temperatures could fall down further in most part of Northern India till the end of the first week of January.