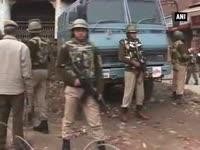 Lashkar-e-Toiba (LeT), Pakistan-based terrorist organisation, has claimed responsibility for the attack on a Central Reserve Police Force (CRPF) convoy that killed eight jawans and injured 22 others in the Pulwama district of Pampore in Srinagar on Saturday. Two militants were also killed in the encounter that followed.
According to NDTV, questions are being raised on possible lapses in security ahead of the attack, which is being deemed as the worst attack in Jammu and Kashmir (J&K) in three years.
Denying the possibility of any security lapse or intelligence failure, sources were quoted by the channel as saying the strike happened despite inputs about possible attacks in the district. They added that a search operation was still on to locate two men who drove the militants to the attack site before the encounter began.
The Road Opening Party, which sanitises the important highways in J&K, could not detect the terrorists who were waiting in a car to carry out the strike.
According to an Indian Express report, terrorists attacked a CRPF convoy of six vehicles including a bus that was carrying 40 CRPF troopers, which was on its way to Pampore from Pantha Chowk, around 4:40 p.m. near Frisal village. "It happened in 10 minutes... three to four militants targeted a CRPF convoy... eight security personnel succumbed to their injuries,'' the daily quoted a senior official as saying.
"The attackers had 11 magazines and 147 rounds of AK-47 ammunition which shows that they were extremely well prepared," Director General of the CRPF Durga Prasad was quoted by the channel as saying.
IE quoted officials as saying that a few terrorists might have fled the attack site. The police's Special Operation Group, the Army's Rashtriya Rifles and CRPF commandos have cordoned off the area.
"The elements inimical to interests of J&K have always tried to derail the peace efforts and the latest militant strike at Pampore is again aimed at subverting the peace and development initiatives launched by the government," J&K Chief Minister Mehbooba Mufti was quoted by the daily as saying as she condemned the attack.
"I salute the courage of the CRPF personnel martyred today in J&K. They served the nation with utmost dedication. Pained by their demise," Prime Minister Narendra Modi said in a tweet.
Meanwhile, two militants were shot dead by J&K security forces in another operation on Sunday along the Line of Control in the Uri sector of Kashmir's Baramulla district, ANI said in a tweet.