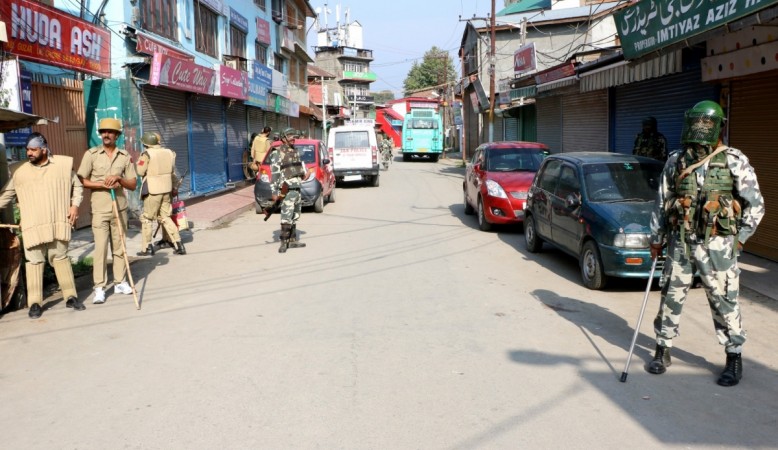 Around 99 percent of students turned up to give their class 10 board examinations, while over 94 percent appeared for their class 12 board exams that were held amid tight security arrangements across the state of Jammu and Kashmir on Tuesday.
HRD Minister Prakash Javadekar termed it as a "powerful surgical strike" and called it "India's reply" to those who are constantly trying to sponsor terrorism in the country. He said that India believed in education and progress and that no act of violence or terrorism carried out to break the country would succeed.
"I'm proud of those children and their parents who are the strength of India. Education is the way to progress. They have understood and given this befitting reply. We have seen the surgical strike of the army, but this reply given by students is also a powerful surgical strike," Javadekar said.
According to official figures, the highest percentage was recorded in the Anantnag district with 96.1 percent of students appearing for their class 12 board exams, followed by Srinagar at 94.3 percent, Greater Kashmir reported.
According to the Directorate of School Education Kashmir (DSEK), 558 centres were allotted for the class 10 exams, while the government had set up 484 exam centres for students appearing for the class 12 board exams.
The government decided to hold the class 10 and class 12 board exams again in March 2017 for those who failed to appear for them in November. Students who took their exams in November were given a 50 percent relaxation in syllabus but those who will appear for their exams in March 2017 will not be given any such relaxation in syllabus. They will have to attempt 100 percent of the syllabus.
"We were not ready to appear in exams given the closure of schools for the past four months... But we somehow prepared ourselves for exams this time to pass it. We appeared in November exams to avoid backlash from the government as it was their decision to hold exams in November. We don't know the fate of March exams," Ahsaan, a student of Government Higher Secondary School Nowpora Khanyar, told the daily.
Fear and anxiety gripped the students as they reached the exam centres accompanied by their parents. Parents sat outside the exam halls waiting for their children to come out after completion of the exam.
"The moment I reached near exam centre my daughter felt anxious. She said she felt scared with the huge deployment of forces outside the exam centre. I somehow convinced her to appear in the exam centre," Mansoor Ahmad, a parent from Srinagar, told Greater Kashmir.
However, students did complain of lack of transport facilities and heating arrangements in examination halls.
"There was no heating arrangement in exam halls in this biting cold. There was also no transport arrangement in place for the students," Gowhar Ahmad, a student, said.
The process was smooth in Anantnag, but incidents of stone-pelting were reported in the districts of Shopian and Pulwama in Kashmir. Section 144 was imposed in and around all exam centres while police and paramilitary forces were also deployed in all centres. A few exam halls were shifted to safer locations after some youths pelted stones. They were, however, chased by the security forces. The army was also called in with most of the centres declared hyper-sensitive. The exam materials, including question and answer sheets, were taken to the respective exam centres under full protection of the police.
Meanwhile, parents also lashed out at the government for putting the future of students at risk in the name of concession (50 percent relaxation in syllabus).
"If government has an option of March, then they should have not conducted exams in November amid such tight security arrangement which has caused sense of insecurity among the students," the parents said, according to the daily. They added that the government should have focused on returning normalcy in the state instead of scheduling exams.
A parent also said that these exams are "worse than exams held in 90s" as students will not be able to compete in exams at the national level.
Special Director General of Police (DGP), Law and Order, SP Vaid, however, said: "There was no major law and order problem anywhere in Kashmir. Exams were held smoothly. We had provided adequate security cover to all the exam centres. There was a greater participation in the exams by the students."