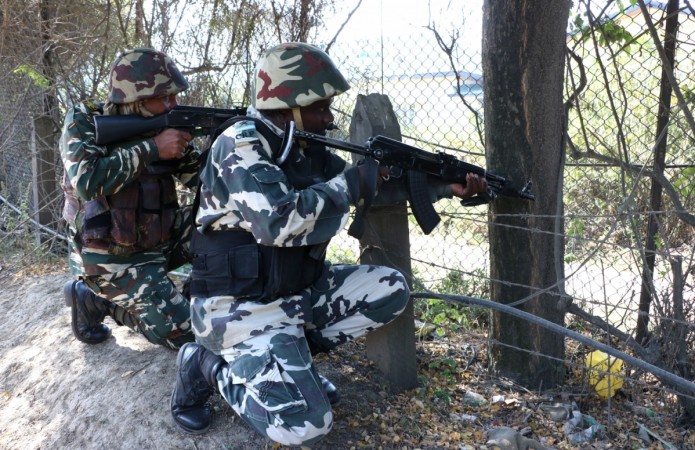 The Border Security Force on Tuesday destroyed 14 Pakistani posts after eight civilians, including three minor children, were killed and 20 others were injured due to heavy mortar shelling by Pakistani troops in Jammu and Kashmir's Samba and Poonch districts.
According to India Today, six civilians were killed in Ramgarh area of Samba district. Two boys and an 18-year-old girl identified as Rajinder Kaur, from Jerda village in Samba, are among the deceased. Ceasefire violations and shelling were also reported in Nowshera sector.
In Arnia sector, three civilians, including two women, were injured in Pakistani mortar shelling at Pindi Charkan. The civilians, in the age group of 40-50, have been identified as Darshna Devi, Chanchlo Devi and Bodh Raj. They are undergoing treatment at Government Medical College Hospital in Jammu.
The Border Security Force has been retaliating at all the places.
All out assault on the western front
Since October 19, the BSF has fired 3,000 long-range mortar shells (81mm area weapons with range of 5-6 km), 2,000 short-range mortar shells (51mm mortar shells with range of 900 meters) and more than 35,000 bullets using small arms, including MMG, LMG and rifles.
In the process, they have claimed the lives of at least 15 Pakistani soldiers and also lost three of its jawans, according to Times of India.
Over 60 ceasefire violations by Pakistan have been recorded in less than two weeks and nearly six infiltration bids in the past 12 days, according to military officials.
Infiltrations becoming routine
While India rejoiced in festivities around the Diwali weekend, our soldiers foiled three infiltration attempts that were aided with cover fire deployed by Pakistani troops in Hiranagar sector of Jammu and Kashmir.
"There were three attempts of infiltration by groups of terrorists which have been successfully foiled by the alert BSF troops in the face of danger to their lives," BSF DIG Dharmendra Pareek was quoted as saying by Indian Express.
A video by ANI showed CCTV visuals of Pakistani terrorists infiltrating across the border in Jammu and Kashmir's Kathua district. It was captured with the Army's thermal imagery cameras.
DIG Pareek has provided a comprehensive account of the infiltration bids foiled this Saturday and Sunday.
On October 30 around midnight, again a heavily-armed group of three terrorists was detected by alert troops across the IB in another area of Hiranagar sector and they reached the vicinity of International Border, taking advantage of dead ground. They were kept under close watch. On effective fire of BSF, they took shelter in dead ground having thick wild growth. They remained hidden during the day for infiltration," DIG Dharmendra Pareek explained.

"The BSF troops on duty, maintaining high alert round-the-clock on the International Border, being well aware of ill intentions of Pakistan, particularly in view of the Diwali festival, opened fire to neutralize them. Once they were targeted heavily by BSF with accurate fire, the Pakistan Rangers came to their rescue and provided covering fire support to the militants for their safe withdrawal towards Pakistani villages."

"The terrorists were seen moving half-bending, crawling and running to save their life towards Pakistan village of Abhiyal Dogra," he added.
Here are live updates of the exchange of fire taking place at the India-Pakistan border:
Unprovoked firing and heavy shelling by Pak rangers continues. Seven civilian casualties . BSF giving befitting reply

— BSF (@BSF_India) November 1, 2016
J&K: Three Pakistani shells strike a market in Mendhar sector, 5 injured

— ANI (@ANI_news) November 1, 2016
I am deeply pained over the fresh spate of civilian killings, including children and women, in border shelling: J&K CM Mehbooba Mufti

— ANI (@ANI_news) November 1, 2016