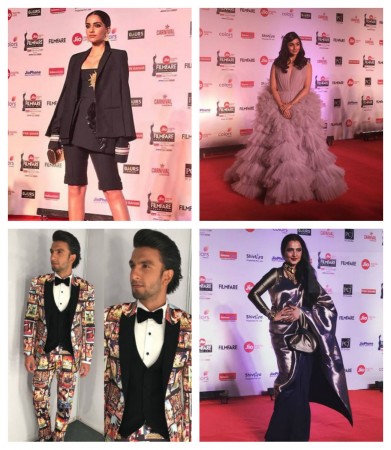 Filmfare Awards' red carpet has given us a lot of shockers this year. The following celebrities have tried something new and we are confused. Take a look:
Alia Bhatt wore Monsoori outfit and left us stunned. We have never seen the actress in something so 'ruffled up'. And what's with that hairstyle? Is she trying to look like a doll?
Sonam Kapoor is known for her experiments and looks like this one just went a little too far. As much as we love her sense of style, this one doesn't fit anywhere.
Ranveer Singh's outfit is too filmy to handle. Talking to Bollywood Life, Ranveer's stylist Nitasha Gaurav revealed details about his outfit. She said: "We were looking to do something that would be crazy and cool as well as pertinent to this occasion. I called up Karrtik Dhingra, who is a menswear designer with expertise in printing and we firmed up the idea of this suit. I sourced images of posters from Ranveer's favorite films from the Eighties and the Nineties, including ones with popular music that he loves. A lot of these films have cult popularity today. Dhingra did a brilliant job of printing the fabric and making the suit, and I think the result has been truly unique. It's a tribute of sorts to the movies and what better place to wear it than the Filmfare awards!"
Rekha who always manages to leave us spellbound with her beautiful sarees, left us in quite a shock with this one. Going bold with metallic eh?
Which one did you like or didn't?