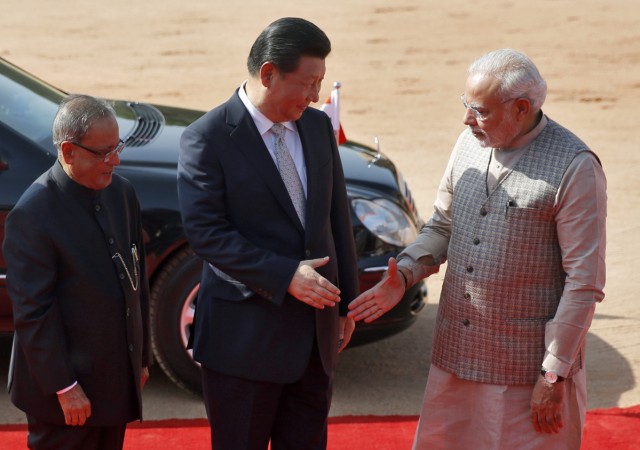 There seems to be no respite along the Indo-China border even after Chinese President Xi Jinping's assurance to Indian Prime Minister Narendra Modi on the extraction of the Chinese troops from Chumar sector of eastern Ladakh. Before his India visit concluded on Friday, Jinping had categorically said that the People's Liberation Army (PLA) has been asked to withdraw.
However, according to NDTV, more than 1,000 soldiers of China's PLA are still standing firm inside Indian territory, despite Modi's tough talk with Jinping, laying bare China's false promises towards resolving the border dispute.
While the PLA troops had reportedly begun a retreat from Indian territory in Ladakh on Thursday, the situation is tense once again in the Chumar region. The Indo-Chinese border is seeing its worst face-off between troops from both sides in several decades, and the tension escalated right at the time of Jinping's arrival in India on Wednesday.
What is ironical is that the face-off continued along the border even as the two countries issued a joint statement on Friday, evoking the 2005 pact on the 'Agreement on the Political Parameters and Guiding Principles for the Settlement of the Boundary Question'.
The statement issued after Jinping's meeting with President Pranab Mukherjee on Friday read: "Recalling the Agreement on the Political Parameters and Guiding Principles for the Settlement of the Boundary Question signed in April 2005, both sides reiterated their commitment to an early settlement of the boundary question and expressed conviction that this would advance basic interests of the two countries and shall, therefore, be pursued as a strategic objective," as reported by Business Standard.
Reports had earlier suggested that the Chinese President had ordered his troops to retreat from Indian territory, and had assured India that China would work towards resolving the border dispute.
According to The Times of India, other members of the Chinese delegation also told Indian officials in New Delhi that the Chinese soldiers had been asked to retreat.
These claims, however, have proven to be rather short-lived.
Prime Minister Narendra Modi had sent out stern messages to his Chinese counterpart about addressing the long-standing issue of demarcation of the Line of Actual Control and the subsequent border conflict.
This could mean nothing but China's nonchalance towards India, with the former willing to risk building stronger ties with India particularly when it is being helmed by a man known to have had a good rapport with the neighbour.