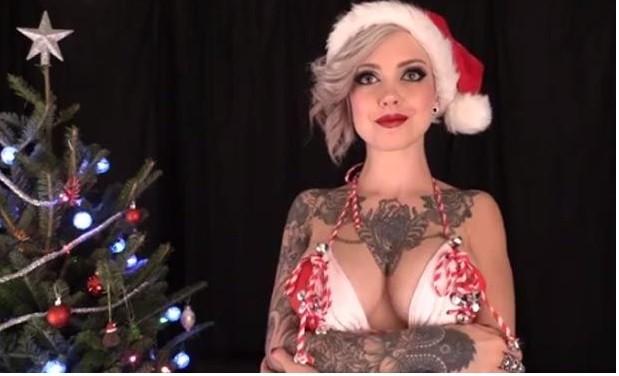 Sara X Mills is best known as the woman who blew up the internet by twerking her 36DD breasts to the tune of Mozart. She is back just in time for Christmas and her personalised gift for fans is a video of her breasts twerking to one of the most famous holiday songs "Jingle Bells".
"Sara X Presents: A Very Sara Xmas" begins with the tattooed model walking over to a decorated Christmas tree adorned in a fur coat and a Santa cap. Mills, facing away from the camera, coyly strips off the coat, turns around and immediately begins twerking her silicon breasts to "Jingle Bells". She also gives adequate facial expressions to match the tune and tone of the holiday classic.
The video ends with Mills bouncing her breasts, unleashing the jingles from the bell hanging from her bikini top, collecting presents from under the Christmas tree and going off camera. A message ".. And to all a good night" splashes towards the end.
"This was the third take and my muscles were tired so cut me a little slack ;) no, it's not a trick guys, it's very real... it's just that my boobs aren't," Mills writes in the description of the YouTube video that has received 4,382,804 hits and 17,186 likes in just two days.
Mills had received death threats after blowing up the Internet with her "boob twerking" performance of a Mozart classic in October. 'Sara X Does Mozart's "Eine kleine Nachtmusik"' has over 33,443,396 page views and 76,495 likes so far.
Meanwhile, a woman named Lisa Marie, with the YouTube username "SillySyndicate," had posted her breasts dancing to "Jingle Bells" in November. The video titled "Jingle Boobs Dancing Boobs to Jingle Bells Boob Twerk Twerking Boobs" has almost a million views.
Marie is also hopeful of spreading breast cancer awareness with her jingle boobs video. She posts, "Be a breast buddy. Remember your self exam and mammogram. Have a friend that is scared to get an exam? Be a breast buddy and go along for support. Sometimes women can use more support than their bra can give. And, that's okay. REMEMBER that breast cancer affects people regardless of GENDER. It is not limited to women."