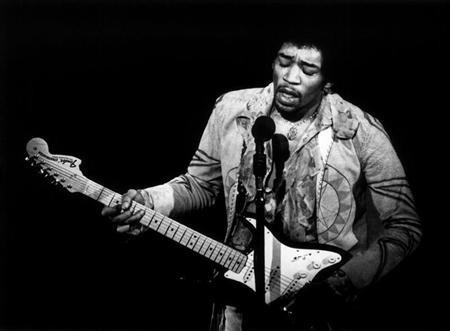 Moviegoers eagerly waiting for the Jimi Hendrix biopic "Jimi: All Is by My Side" finally got a glimpse of it, through the trailer of the movie.
The biopic, which stars OutKast's Andre 3000 as the guitar god Hendrix, has received critical appreciation during the movie's film festival premiers, especially for the towering central performance.
Screenwriter John Ridley, who won an Oscar for "12 Years a Slave", is the director and writer of the biopic. The movie has been waiting for release since 2013, after it got into a legal tangle with the Jimi Hendrix Estate, which was against the whole idea of a movie on Hendrix.
The film chronicles Hendrix's rise to stardom during 1966-1967. The movie also focuses on his pre-fame era during which he drifts from venue to venue as a complete unknown, playing for various bands, till he is finally discovered by Keith Richards' girlfriend.
Imogen Poots plays the role of Linda Keith, the woman who was instrumental in launching Hendrix's career in London, while Hayley Atwell plays Hendrix's long-term girlfriend Kathy Etchingham.
For a real Hendrix fan, the movie will be a treat as it sticks true to the real story of his life. The biopic essentially draws on his life as a struggling black musician, who is a little autistic, dresses ridiculously and is less understood.
And this is where Andre 3000's portrayal of Hendrix is spot on, especially in mimicking the awkward and clumsy body language of the guitar god, who was too deep in drugs.
The biggest drawback for the fans, however, is that the film does not contain any Hendrix songs as the Jimi Hendrix Estate has refused to let the filmmakers use any of his music. The film is scheduled for a September release.
However, several of Hendrix's friends, including Etchingham have been against the film, especially over the scenes that depict Hendrix violently and repeatedly beating Etchingham.
In a recent, Etchingham has also threatened the filmmakers of legal action, if the disputed scenes are not edited out. She reportedly stated that the movie tarnishes the image of Hendrix, who was a gentleman.