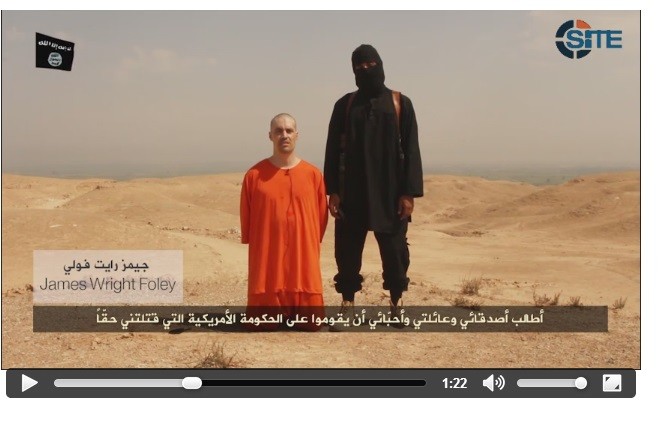 The FBI has claimed that it has narrowed down the identity of the black-clad, masked and English-accented jihadists of the Islamic State group, who beheaded westerners in gruesome videos released over the last few weeks.
"I believe we have identified him," FBI Director James B. Comey said during a briefing with reporters at FBI headquarters in Washington, the first time that a US official has divulged information on the investigation of the ISIS executioner, who appeared in three beheading videos.
The video-taped beheadings of American journalists James Foley and Steven Sotloff contributed to a sense of collective consternation in America, nudging the Obama administration to escalate its campaign against the deadly jihadist group, which has not only wrecked havoc in much of Iraq and Syria, but has also baffled the world with its gruesome and heinous crimes.
The FBI leader did not elaborate any further on the true identity of Jihadi John or say where the hardliner Sunni executioner is from. Comey also did not say whether officials believed the suspect personally beheaded 40-year-old Foley, 31-year-old Sotloff and British aid worker David Haines, 44.
In an effort to identify the killer, Intelligence agencies reportedly used voice-recognition tools and various other imagery technologies and also studied the records of Western fighters, who are believed to have joined the group.
British officials, for a while, believed that the masked man could be a London rapper, who was reported to have gone to Syria for fighting alongside the Sunni militant group.
Comey also referred to a fighter with "North American-accented English" who appears in another propaganda video of the group titled "Flames of War." At the end of the video, a masked man appears with a gun, speaking in fluent English as a group of men behind him dig their "own graves". The men, who ISIS claimed to be Syrian soldiers, are later shot from behind.
The announcement came as the US-led coalition continued to bomb ISIS targets in Syria for a third straight day. Meanwhile, New York was in a state of panic on Thursday after the new Iraqi prime minister announced there was a plot to attack subways in Paris and the United States. Federal officials, however, said there was no specific threat against New York.