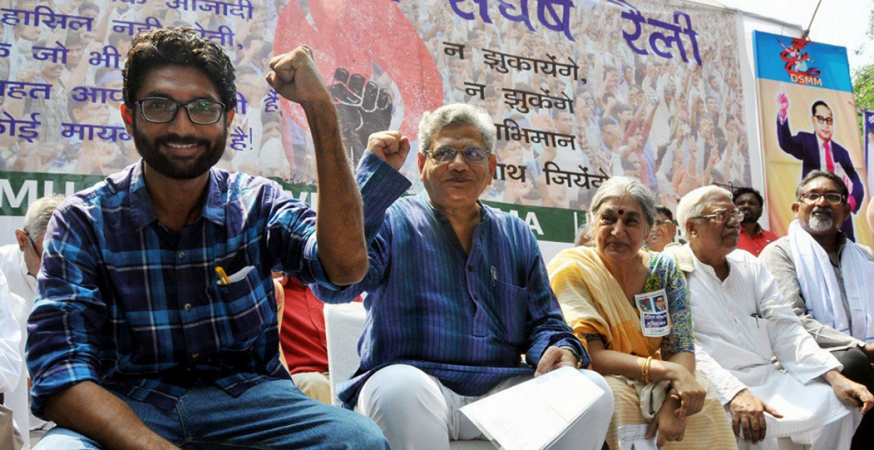 Gujarat social activist and lawyer Jignesh Mevani, who became an MLA after winning the Assembly elections in the state late last year, took to Twitter on Wednesday, February 14 to send out Valentine's Day wishes.
'Who loves Modi?'
However, his tweet was accompanied by a question or rather a jibe at Prime Minister Narendra Modi. The Dalit leader wondered whether anybody has ever said "love you" to Modi.
He added that many people have proposed him.
The tweet did not go down well with fans of Modi.
हम को बहुतों ने i love you कहा है. लेकिन मोदी जी को कभी किसी ने I love you कहा होंगा? I doubt, what say ? Happy Valentine's day

— Jignesh Mevani (@jigneshmevani80) February 14, 2018
Is Mevani a Priya Prakash Varrier fan?
Earlier in the day, Mevani also referred to Malayalam actress and internet sensation Priya Prakash Varrier and her upcoming movie Oru Adaar Love — whose song Manikya Malaraya Poovi has gone viral — while poking fun at the Rashtriya Swayamsevak Sangh's (RSS) Valentine's Day protest.
Happy Valentines Day ❤️❤️
Viral hit of 'Manikya Malaraya Poovi' is the answer to RSS's Valentines Day protest and Again Indians have proved that they like to love more than hating someone. Enjoy this beautiful video. #ValentinesDay pic.twitter.com/QtWqqqm8zt

— Jignesh Mevani (@jigneshmevani80) February 14, 2018
The RSS is infamous for its steady fight against Valentine's Day, which it considers a part of Western culture.
"In India, love has been sacred and pious. It has been sung as the tales of Radha-Krishna, Laila-Majnu and Heer-Ranjha but Western culture commercialized love and gave birth to the festival of Valentine's Day which is now responsible for problems like rape, illegitimate children and violence on women," RSS leader Indresh Kumar had said in June 2017.
Twitterati jump to Modi's defense
Meanwhile, even as a few of us were left wondering who have expressed their love for Mevani, a section of the Twitterati took it upon themselves to defend Modi.
Mene bhi mere pet dog ko I love kaha hai
Tumko bhi kaafi logo ne pet samajh kar I love u kaha hoga par unko bhi iss baat ka andazaa baad me laga ki tum jungli nasal ke ho.
Waise I love Modiji, India loves Modiji https://t.co/uPyYNZIYZz

— Burnol waali (@burnolwali) February 14, 2018
Really tumko i love u kaha ladki ne...i don't think ???

— Mahika (@Mahika_04) February 14, 2018
Correction. 125 nahin, 600 carod!!

— Naushad Ahmed (@Naushad19498539) February 14, 2018
भाई आरक्षण की वजह से ही बोला होगा वरना जैसी तेरी शक्ल और अक्ल है उसे देखकर लग रहा है कोई I hate you ना बोले तुझे ???

— डॉक्टर वायरस (@daktar_virus) February 14, 2018
Modi ji ko country ki 1 arab wali population everyday i love u bolti hai apne dekha pignesh jaha jaata hai jhand kara kr ata h

— Himanshi Kunwar (@HimanshiKunwar1) February 14, 2018