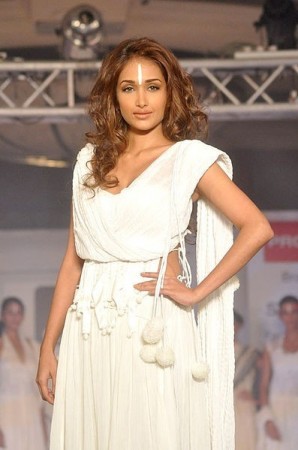 Rabia Khan after coming up with a sting operation on witnesses, has now pointed fingers at superstar Salman Khan.
The mother of deceased actress Jiah Khan, in a recent tweet accused the "Dabangg" actor of protecting Sooraj Pancholi, who according to her is Jiah's killer.
Movie stars like Salman sheltering the murderers where is the Gods fear and being human all for the front shame on him

— RABBIYA KHAN (@RABYAK) March 4, 2014
Rabia further addressed the three Khans - Salman, Shahrukh and Aamir, as she pointed out Sooraj's actor-father Aditya Pancholi's recent statements.
@BeingSalmanKhan @imsrk_ @aamir_khan aditya says tell rabya to look after her remaking two daughters what does he mean?now thinks of other 2 — RABBIYA KHAN (@RABYAK) March 4, 2014
Rabia had recently submitted recordings of eight witnesses to the High Court, claiming that police have fudged up investigations of Jiah's death as a suicide case, when it should have been a murder. She further requested a Special Investigation Team to probe the high end case.
Meanwhile, it has come out that Salman has provided his lawyer Shrikant Shivade to Sooraj, to ensure that the newbie faces no hiccups in legal proceedings.
"Salman is going all-out to ensure Sooraj's debut is a smooth one. Salman did something for Sooraj that he doesn't ever do: he allowed Sooraj to practice his stunts on his farm in Panvel for Hero.Salman's lawyer has been asked to leave no stone unturned to get the case against Sooraj quashed in the next hearing on March 24. Sooraj's defence team is confident of extricating Sooraj from the legal tangle at the next hearing. They have also built a water-tight case for defamation against Jiah's mother," revealed a source to PinkVilla.
The news was further confirmed by Sooraj's father Aditya.
This isn't the first time the late actress' mother has dragged Salman's name. Days after Jiah was found dead and allegations against Sooraj were rife, Rabia had stated that the superstar had discouraged Sooraj and Jiah's relationship and advised Aditya to keep his son away from the "Nishabd" actress.
Salman had then dismissed the accusations and explained that he did not meddle in junior Pancholi's love life.
Salman has stood by the aspiring actor in difficult times and his production house is all set to launch the newbie along with Suneil Shetty's daughter Athiya in their debut film, "Hero".