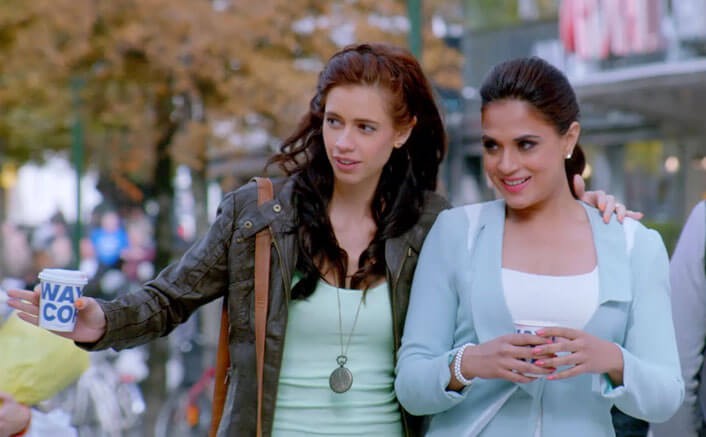 Rating - 1
Cast - Richa Chaddha, Kalki Koechlin, Arslan Goni, Sudhanshu Pandey, Zarina Wahab
Director – Howard Rosemeyer
Genre – Drama
Storyline
Two characters, different from each other and called Jia. While Kalki (Jia Garewal) is outgoing, free and happy in life, Richa's (Jia Venkatraman) character is tragic and sad. The two strangers decide to take a Sweden road trip together because they don't have enough funds. From not liking each other to being the best of friends in the end, the story has loopholes and how! From nowhere comes another Indian guy Arslan Goni (Vasu Bergman) who is supposedly rich but is a sculptor. Kalki eventually falls in love with Arslan and their dark secrets come to light through this journey. What dark secret you may ask?
(Spoilers ahead)
Well, Richa plans a trip to Sweden just to commit suicide. Like really? And Kalki's secret is that she is suffering from an advanced stage of liver cancer.
Performances
Richa Chadha has disappointed beyond measures. We can call this her worst performance till date. Kalki Koechlin's comic timing was brilliant but even that couldn't save this disaster of a movie. Talking about Arslan Goni, who debuts with this film, he miserably failed with his expressions.
Positives
Only and only Kalki Koechlin. For that matter, Zarina Wahab, who plays Kalki's mother has a small role but yet have done justice.
Negatives
Where to begin? Right from the story which is so predictable, to poor screenplay, unnecessary close-up shots and overacting of Richa to terrible music and background score. 20 minutes in the movie and your popcorn would look more interesting than the film. Both these actresses are so talented and capable of much more, we wonder what happened here!
Jia Aur Jia takes us back to the old Jiya o jiya, the title song of the Asha Parekh-Dev Anand classic Jab Pyar Kisise Hota Hai. But what was the connection? Because Nisschal Zaveri's Jiya o jiya reprise – performed by Jyotica Tangri and Rashid Ali – was bland. One should really not touch the originals sometimes!
Verdict
Overall, a must MISS! Save your money.