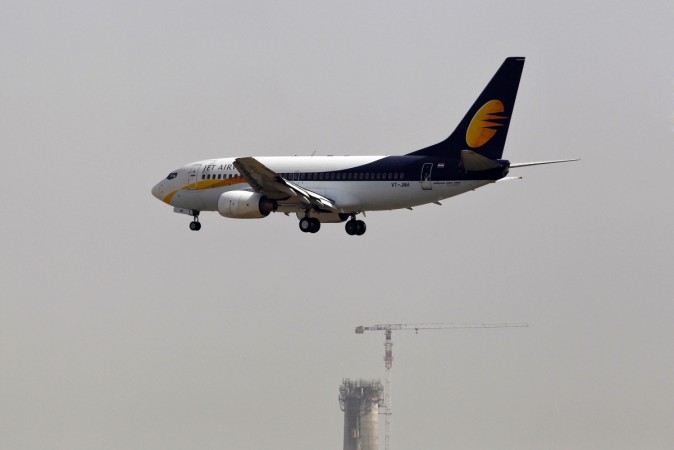 The man accused for planting a hijack threat letter on a Mumbai-Delhi Jet Airways flight on Monday is a jewellery scion who reportedly confessed to the crime and said he did it to get a stewardess he had a crush on fired from her job.
Gujarat-based jeweller Birju Kishore Salla was taken to Mumbai by the Ahmedabad Crime Branch for investigation after Jet Airways flight 9W 339, with 115 passengers and seven crew members on board, was diverted and landed safely at the Gujarat capital's airport due to a security threat.
Salla had planted a letter inside one of the toilets of the flight and intended to put several more letters in the plane, according to reports.
After initial investigation, the Ahmedabad Crime Branch detained two persons on Monday and later arrested Salla. His case has now been handed over to the National Investigation Agency (NIA).
The crime branch has also registered an offence under Section 4(b) of the Anti-Hijacking Act, 2016, which warrants life imprisonment till death and complete forfeiture of all movable and immovable assets of the person, according to a News18 report.
The letter, written in Urdu and English, stated: "Flight No 9 W 339 is covered by hijackers and the aircraft should not be landed and flown straight to POK. 12 people on board. If you put landing gear you will hear the noise of people dying. Don't take it as a joke. Cargo area contains explosive bomb and will blast if you land in Delhi."
Reports state that Salla had allegedly used Google translate to write a part of the letter in Urdu, and wanted to plant several hijack letters to shut down the airline and subsequently make the air hostess he liked lose her job.
Jet Airways letter threat matter:ahmedabad Crime Branch registered an offence under hijacking act,2016 against arrested accused Birju salla. pic.twitter.com/XFEAxI8Vw6

— Janak Dave (@dave_janak) October 31, 2017
The jewellery scion reportedly also had issues with the airline over food and was bearing a grudge. The letter was an act of "revenge," according to News18.
Shortly after the arrest of the accused, Civil Aviation Minister Ashok Gajapathi Raju on Monday advised all airlines to put the accused on their no-fly lists and said statutory criminal action would also be initiated against him.
Accused fond of a lavish lifestyle
The 37-year-old Salla belongs to a community of goldsmiths and hails from Gujarat's Amreli district. He is a scion of the reputed age-old firm H Kishore Kumar Jewellers.
His arrest in connection with the incident shocked the entire business community in Zaveri Bazaar.
Salla, who runs his property business from Thane in Mumbai, is fond of the high life and often mingles with celebrities. The internet is filled with his pictures with Hindi film stars and celebrities. However, he does not appear to be active on social media.
Salla lives in South Mumbai on the 15th floor of Sreepati Arcade in Tardeo with his wife and two children. The building till a decade ago was the country's tallest skyscraper.
The staff at Sreepati Arcade told the Times of India that Salla is at times escorted by a private bodyguard, and also mingles with police officers who ocassionaly pay him a visit in plain clothes.
"There must be some misunderstanding. Kishorebhai's family has been living here for 15 years. It was I who sold them the apartments on the 15th floor," RR Chaturvedi, the building's owner and Salla's neighbour, said.
"(Salla's father) is agitated and does not wish to speak to the press. The family feels the airline is trying to frame Birju because he has had a run-in with it in the past," a neighbour who spoke to Salla's family told TOI.