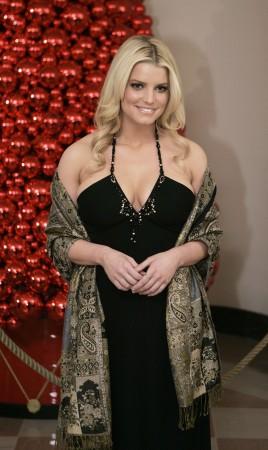 Jessica Simpson has sparked off lip job rumours. The buzz of the cosmetic job gained steam when Simpson posted a snap of herself on Instagram on Sept 15.
The 34-year-old singer is in good body shape but her lips looked fuller than ever, according reports. A slew of plastic surgeons think that Simpson has injected voulminizer into her lips.
"Jessica definitely injected a volumizer into her lips. Especially with her recent weight loss, her lips may have become drawn and gaunt. There are a variety of lips volumizers (a.k.a. fillers) ranging from hyaluronic acid (Restylane, Juvaderm), which are naturally found in the body and maintain the effect for 9 months," Dr. Norman Rowe told Hollywoodlife.
Dr. Michael Salzhauer also told the website that this may not be the first time Simpson has artificially volumnized her lips.
However, Simpson's representative is yet to confirm the rumours.
Meanwhile, Simpson who is now married to NFL hunk Eric Johnson, has lost an umpteen amount of weight. She lost 60 pounds before getting married to Johnson and went vegan two weeks before the wedding.
"For breakfast I am an oatmeal girl," she said about her diet to Good Morning America. "Lunch, I do like bread so I will have a sandwich or something. But for dinner I try (to) keep it super clean," according to a report by ABC News.
Simpson got married to Johnson on 4 July in a beautiful ceremony near Santa Barbara, Calif. She has two kids and said it in many interviews that family comes first to her. However, she expressed her wish to go back to singing.
"I want to sing again. I want my daughter to see me on stage. My fiancé has never even watched me perform. Which is crazy. And — but that is my passion, that is my love, like, that is everything that I am," she added.
Simpson rose to fame with her single, "I Would Love You Foreover." She has also done a bevy of films, including "The Dukes of Hazzard", "Employee of the Month ", and "Private Valentine: Blonde & Dangerous."
Simpson was previously married to Nick Lachey. She filed for divorce from Lachey citing "irreconcilable differences" and it was finalized in 2006.