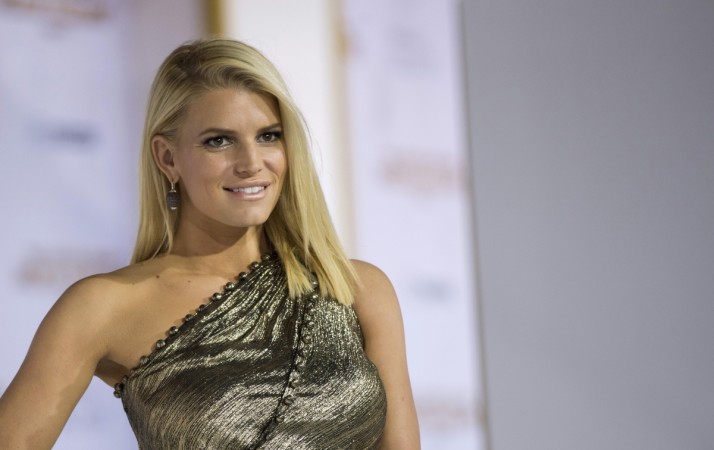 Jessica Simpson is expecting her third child and the mother-of-two is over the moon as she awaits the arrival of her baby girl. Simpson and husband Eric Johnson are already parents to Maxwell, 6 and Ace, 5.
The couple were done having children, or at least they thought so, before Simpson got pregnant. Simpson revealed on Ellen DeGeneres last year that, "We got an IUD, nothing is going to get into that uterus."
So, when they found out they were pregnant yet again, not only were they surprised but it turns out this is the very reason why their third baby is extra special to them.
Hollywood Life has quoted a source saying, "Jessica is doing great, she's really enjoying her pregnancy. She didn't really plan or expect to be pregnant a third time, so it all feels so special. And one of the best parts about it is that she gets to share the excitement with her kids, they're old enough to understand and are fully invested. She says they ask her almost every day how much longer until the baby arrives. Maxwell is especially excited to be getting a baby sister, she was thrilled when they found out they were having a girl."
But, until the baby arrives, Jessica is keeping busy with work. "Jessica has been very busy expanding her empire and she's got two high energy kids to run around after so she hasn't had a ton of time to relax and take time for herself," adds the source.
"Even when she's not working she's still on full-time mom duty. Fortunately, Eric is the best husband. He's so hands-on with the kids and so supportive of her, things really couldn't be better for them right now. They were already in a good place but this pregnancy has brought them even closer, they're more in love than ever. This is a very special time and Jessica is counting her blessings."
Meanwhile, Simpson made headlines recently when actress Natalie Portman made a statement earlier this week during publicity rounds for her forthcoming film 'Vox Lux', in which she plays a pop star.
Portman is quoted as saying in the interview, "I remember being a teenager, and there was Jessica Simpson on the cover of a magazine saying 'I'm a virgin' while wearing a bikini, and I was confused. Like, I don't know what this is trying to tell me as a woman, as a girl,' she says."
Shortly after, Jessica took to Instagram to call out Natalie on her comment.
Portman responded to Simpson, commenting on her Instagram post on Wednesday. "Thank you for your words. I completely agree with you that a woman should be allowed to dress however she likes and behave however she likes and not be judged," Portman said.
"I only meant to say I was confused--as a girl coming of age in the public eye around the same time - by the media's mixed messaged about how girls and women were supposed to behave," Portman said in an attempt to clarify her earlier comments.
"I didn't mean to shame you and I'm sorry for any hurt my words may have caused. I have nothing but respect for your talent and your voice that you use to encourage and empower women all over the globe."