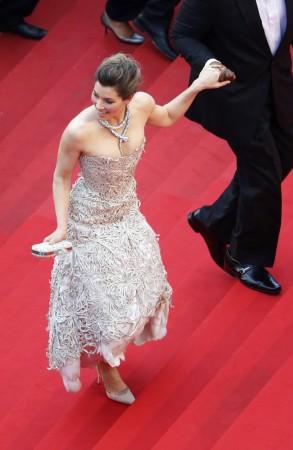 American actress Jessica Biel's pregnancy has reportedly been confirmed. The mother-to-be is currently enjoying the bliss of her first pregnancy and is looking forward to a happy, healthy baby with husband Justin Timberlake, reports say.
"Right now they are just enjoying the news among themselves," said a close friend of the couple to US Weekly, adding, "They just want a happy baby."
In a confirmation to Biel's pregnancy, In Style editor Ariel Foxman posted a photo, which has now been deleted, of herself with Biel on Instagram and captioned it: "Congrats @jessicabiel on your impending motherhood ... Looking forward to the red carpet maternity style pix to come #tbt," according to E!
Though the couple's spokesperson is yet to confirm the news, it is known that Biel and Timberlake have always had a propensity for having a blissful family life. The actress had said in her previous interview that her married life with Timberlake is "incredible" and it seems to her that "nothing has changed and yet there is something which can't be described".
Timberlake also shares the same emotion as his wife. The singer told DeGeneres, "It is nice to be married to your best friend."
The reason that the couple is not announcing their pregnancy is their private nature, according to Hollywoodlife report. "Justin is being super private right now, but that makes sense if Jessica is pregnant because he's always been bothered by the attention that celebrity kids generate," a source revealed to Hollywoodlife.
Meanwhile, Biel recently stepped out showing her sharp, classy baby bump in style. She dressed her bump in a black coat, matching pants and swept her hair in a high bun. Just to add a little touch of glamour, the actress wore a pair of gorgeous emerald stud earrings.
The actress's pregnancy fashion would be on the watch and would definitely be compared to the Duchess of Cambridge Kate Middleton's maternity fashion. Middleton is pregnant with her second baby and is currently in her second trimester.
Biel and Timberlake recently celebrated their second marriage anniversary in October. The couple was spotted unwinding in New Zealand and Australia where Timberlake had gone for a tour.