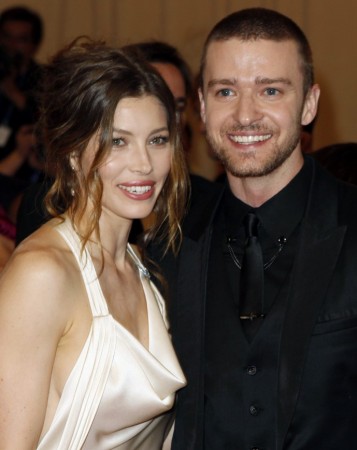 Jessica Biel and Justin Timberlake welcomed their son Silas Randall on 11 April, and the couple has hired two gay male nannies to help take care of the four-week-old child.
It was reportedly Jessica's decision to hire the mannies because she didn't want any other women around her singer husband. So, instead of opting for Swedish nannies, the actress settled for the two male caretakers.
Well, looks like Silas is not the only male in the house who needs to be watched over. According to OK! Magazine, Biel took this call so that she didn't have to worry about straying.
"Jessica hired two gay male nannies she knows through friends and is having them rotate schedules," an insider told the publication.
While Jessica's friend added, "She didn't want any Swedish nannies around Justin."
But no matter who the nanny is, the first-time parents seem to be enjoying their new parenthood duties.
"[Justin] is in there too, changing diapers and gushing to everyone he knows that Silas is already a little angel," a source said.
The couple, who married in October 2012, welcomed their first child on 11 April, 2015. A few days later, the "Mirrors" singer shared the first snap of Silas and Biel on his Instagram account.
The star couple has decided to raise their baby away from the spotlight, especially Hollywood. They have plans to bring up Silas at their home in the exclusive Yellowstone Club in Big Sky, Montana.
"It's away from the hustle and bustle of Hollywood and it's beautiful," reported Daily Mail.
Meanwhile, the 34-year-old singer was spotted golfing in Toluca Lake, California, on Wednesday, while his 33-year-old wife was prepping for the grand opening of her kids' restaurant "Au Fudge" in Hollywood.
However, Justin Timberlake has not commented anything on his wife's choice of mannies.